Research
Published 24 September 2020
Eye of the Takahē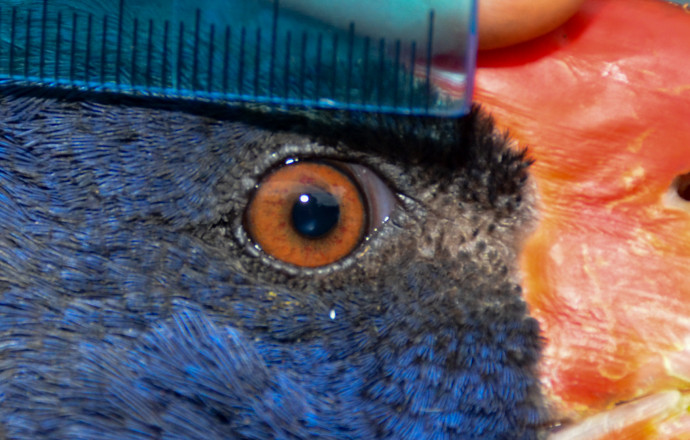 Photograph of the right eye of a takahē, demonstrating the generalised tan colour, round pupil and multiple areas of prominent iris vascularity. Credit: Hadden, 2020.
A new paper in the 'New Zealand Journal Zoology' comprises research on the ocular health of three takahē at Auckland Zoo.
'The eye of the takahē, Porphyrio hochstetteri' published free-to-access in the New Zealand Journal of Zoology seeks to understand more about the takahē, flightless herbivorous birds that are endemic to Aotearoa and considered nationally vulnerable. In the nineteenth century they were thought to be extinct – until they were rediscovered in Fiordland in 1948.
For most birds, vision appears to be the 'primary driver of intelligent behaviour'. Vision is crucial for flight, foraging, predator detection, and reproduction. Yet prior to this research, exploration of the anatomy, physiology and ocular health of a takahē eye had never been undertaken.
Previous studies have shown that almost all birds have relatively large eyes for their size, and in most birds the eye is wider than it is long, creating a flattened shape. Both of these characteristics are present in the takahē. It is likely that this flattened eye shape serves to spot predators at a distance. However the anatomy of the head still prevents the takahē from obtaining an 'all-around' visual field without moving.
A takahē at Auckland Zoo was showing signs of disorientation, provoking an examination. To enable a comparison to the normal ocular function of takahē, two additional healthy takahē were also examined. The eyes were examined as fully as possible while the birds were being restrained, without the use of sedation. The examination revealed that the ocular health of the disorientated bird was within normal limits and further investigation traced the cause of the disorientation to a previous traumatic brain injury.
Further study of the anatomy and historical information of the takahē eye, as well as behavioural measurements, would be beneficial for understanding the evolution of the eye of the takahē. A comparison to the pukeko, of which the modern variant is derived from a lineage that first appeared in New Zealand after Polynesian settlement, might help identify how eyes change in birds that lose the ability to fly.
The research article 'The eye of the takahē, Porphyrio hochstetteri' published in the New Zealand Journal of Zoology was authored by Peter Hadden, An Pas, Stephanie Cassidy & William Ober. The article is published under Gold Open Access and is free to download.
Peter W. Hadden, An E. Pas, Stephanie B. Cassidy & William C. Ober (2020) The eye of the takahē, Porphyrio hochstetteri, New Zealand Journal of Zoology, DOI: 10.1080/03014223.2020.1792945
ORGANISATION
University of Auckland
---