Research
Published 22 November 2021
Creating a Māori disaster management framework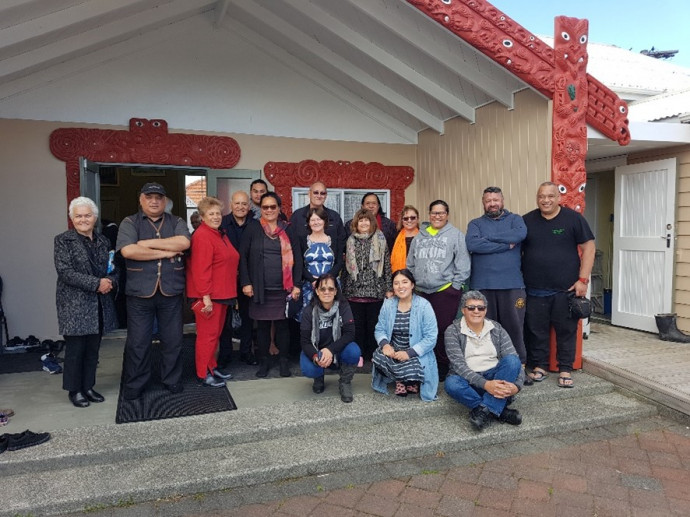 Participants at inaugural research hui, Te Kākano o te Aroha Marae, October 2018. Photo: Supplied.
Māori, catastrophic events, and collective development of culture-based disaster management theory and practice
Tangata whenua have extensive experience in successfully responding to catastrophic events in Aotearoa. Yet there is a lack of appreciation for, and understanding about how Māori attributes (knowledges, values and traditional practices) may enhance emergency responses to disasters. In this community-led Marsden Fast Start project, Associate Professor Christine Kenney addresses this knowledge gap by exploring what, and how Māori attributes can be mobilised and/or combined in a Māori disaster management framework that is culturally acceptable and widely applicable. Designed by, for, and with Māori community partners in response to concerns raised by iwi and hapū, the research uses interviews, hui and wānanga to gather mātauranga Māori knowledge, develop ideas, and workshop the new framework to become a platform for advancing Māori disaster management aspirations.
Representatives from 15 iwi and 43 hapū have shared their views on Māori emergency management to date. Participants have reported that intergenerational emergency management education draws on visual communication tools within their wharenui meeting houses. The alignment of whakairo carvings, tukituki woven panel designs, and kōwhaiwhai painted patterns in wharenui present narratives of past events, contain risk communication messages and recommendations for Māori emergency management. Access to mātauranga is determined by kaupapa values or principles: whakapapa genealogy in particular – which underpins and acts as a driver for emergency management, rangatiratanga leadership, kāwanatanga governance, and tikanga practices. Thus, cultural values act as moral imperatives in emergency management contexts as well as material and philosophical stimuli that influence how Māori respond to crises. Whakapapa also determines Māori emergency management roles, shapes responders' actions and their links with community, and potentially affects the distribution of resources to other Māori collectives. As mātauranga is region, hapū, and even whānau-specific, both strong and weak relational ties may be characterised as key influences on Māori emergency management approaches.
Eight key kaupapa were initially identified as central to Māori emergency management:
whakapapa geneology
whakawhanaungatanga establishing relationships
manaakitanga hospitality, kindness
kotahitanga unity
rangatiratanga leadership
kaitiakitanga guardianship
wairuatanga spirituality
mana motuhake separate identity.
Interviewees advocated for including taonga tuku iho – valuable tupuna ancestral knowledge and practices associated with kaitiakitanga. Ngā ipukarea has been added more recently, as ancestral homelands are sites that reinforce kinship ties and generate essential resources. The draft Māori disaster management framework encompasses these ten kaupapa and has been provisionally entitled 'Te Taniwha'; a name that reflects how elements of the new model equate to qualities and actions associated with Taniwha – supernatural beings, who have been repeatedly referenced in participants' interviews.
Participants assert that as taniwha are powerful change agents and shape changers, they are adaptable to evolving circumstances. Within te ao Māori they are considered kaitiaki – associated with leadership, arbiters of right action and redressers of justice, as well as recipients and enactors of respect. Taniwha are also spiritual beings; manaia in particular are ethical messengers as well as risk communicators and managers for the atua. The research model is visually represented as a four fingered manaia, with the overall refinement – including the development of indicators and tikanga related to each kaupapa – currently underway.
RESEARCHER
Associate Professor Christine Kenney
ORGANISATION
Massey University
FUNDING SUPPORT
Marsden Fund
CONTRACT OR PROJECT ID
MAU1724
---