Research
Published 18 April 2023
How do sensory shifts shape our diet? Testing the neural mechanisms underpinning nutrient selection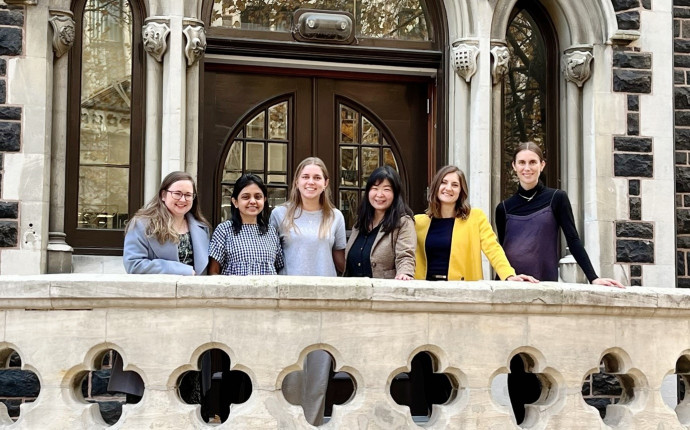 Research Team of the Energy Study – a novel longitudinal study cohort based in Dunedin Photo.provided
Is there an underlying sensory neural mechanism 'secretly' guiding our food choices? How can we listen to our body when it comes to choosing food and drinks? Why do each of us prefer different types of energy sources?
Scientists are only beginning to understand the physiological and psychological mechanisms underpinning food choices and eating behaviour. Our senses, such as smell and taste, have been suggested to play a key role in mediating our energy cost and intake.
Principal Investigator Dr Mei Peng, along with Postdoctoral Researcher Dr Jessica McCormack (Te Whare Wānanga o Ōtākou University of Otago) and their co-investigator Dr Reece Roberts (Waipapa Taumata Rau The University of Auckland) have set out to understand the neural basis of sensory influences on food choices, using pregnancy as a natural model. While everyone can undergo metabolic shifts during our life course, pregnancy represents a unique scenario associated with drastic and dramatic metabolic changes – like a metabolic reprogramming. Anecdotal and empirical data have suggested that pregnant people experience major changes in their sensory and food perception, which are often manifested with food aversion and craving. It remains unclear whether such pregnancy-related sensory and behavioural changes carry on to postpartum phases, and if they are implicated by alterations of brain responses.
Dr Peng and the team are establishing a Dunedin-based, new longitudinal study (ENERGY - Energy, Neurosensory, and Eating Responses durinG pregnancY study) which will follow a group of New Zealanders, tracking their sensory, diet, and brain changes, before and after pregnancy. Through this Marsden Funded study, they will also try to elucidate factors influencing postnatal health to improve psychological and physical wellbeing. Understanding sensory shifts linked to pregnancy may help to shed light on longer-term change across our lifespans, with implications for diet-related health issues across Aotearoa.
ORGANISATION
University of Otago
FUNDING SUPPORT
Marsden Fund
CONTRACT OR PROJECT ID
UOO2119
---