Research
Published 4 October 2017
Kia ora: how Māori borrowings shape New Zealand English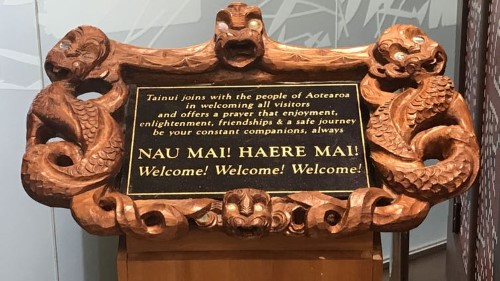 Sinead Leahy, CC BY-ND
New Zealand English is one of the youngest dialects of English. It exhibits a number of unique features and the use of words from the indigenous Māori language is probably the most salient and easily recognisable one
Originally published in The Conversation on Wednesday 27th September 2017
In our latest research, we found that the process by which Māori words are most frequently borrowed resembles the Darwinian concept of evolutionary fitness.
Of words and genes
Borrowings from Māori are so common that visitors to New Zealand only have to exit the plane to be greeted by haere mai.
New Zealand English is spoken nearly 20,000 kilometres away from the language which gave rise to it. Distinct from its closely related cousin, Australian English, but often mistaken for it, our variety of English is unique to New Zealand/Aotearoa.
New Zealand English is, of course, not alone in borrowing words from other languages. British English is no stranger to this, exhibiting words from as far as China and Japan to the east (ginseng, chow mein, kimono), and Native American languages to the west (tepee, toboggan). It is not exceptional in its array of foreign words, being both a donor and a receiver. This is the norm for many languages.
The flow of words around the world can be compared to the flow of genes across species. Luigi Cavalli-Sforza and his colleagues showed in a ground-breaking paper in 1988 that Darwin's idea that linguistic and genetic evolution paths go hand-in-hand was spot on.
Like genes, words rely on the existence of a host (a population of speakers in this case) and they evolve and adapt to the needs of their host. The host is crucial. When the last speaker of a language dies, the language itself dies.
Additional information: See the original The Conversation article
RESEARCHER
Dr Andreea Calude
ORGANISATION
University of Waikato
FUNDING SUPPORT
Marsden Fund
CONTRACT OR PROJECT ID
UOW1603
---