Research
Published 2 February 2023
New research cracks climate-change mystery of Antarctic sea ice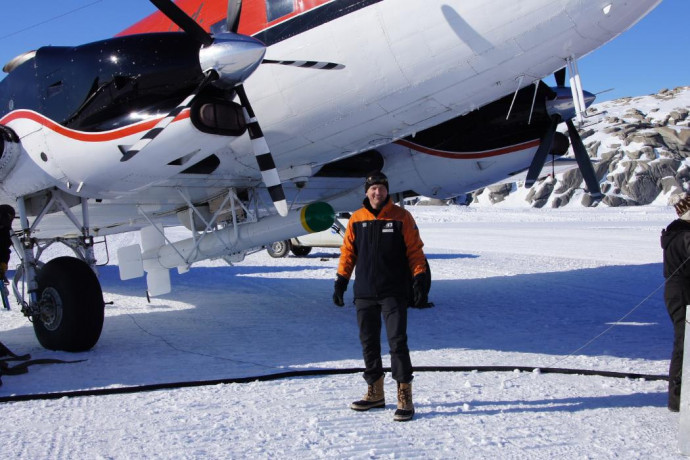 University of Canterbury School of Earth and Environment Professor Wolfgang Rack with the aircraft that will be used in a pioneering, new study of coastal sea ice in Antarctica. Photo supplied.
Pioneering airborne technology developed by University of Canterbury researchers will be used to map and measure a vast stretch of Antarctic sea ice, revealing more about the critical role it plays in the global climate system
Originally published by the University of Canterbury, 1st Feb 2023
University of Canterbury (UC) School of Earth and Environment Professor Wolfgang Rack, a glaciologist, says it will be the most comprehensive study of coastal sea ice in Antarctica ever carried out, and the resulting data will be internationally significant.
"Using an aircraft survey, we plan to measure the largest stretches of Antarctic sea ice in history," he says. "If we want to be confident in our predictions of sea ice trends and better understand the vital role it plays in a warming climate, we need more accurate information on the thickness of current coastal sea ice.
Professor Rack and his team, which includes research scientist Dr Daniel Price from the UC School of Earth and Environment, have been awarded a three-year $929,000 Marsden Fund grant from Royal Society Te Apārangi for the project. It is a collaboration between UC, Lincoln Agritech, the Alfred Wegener Institute for Polar and Marine Research (AWI) in Germany, Australian Antarctic Division, NASA, and ETH Zurich University.
The survey will be carried out in late 2024 in the Ross Sea and Western Pacific areas of Antarctica using a fixed-wing DC3 aircraft provided by Antarctica New Zealand in collaboration with the Australian Antarctic Division. An 'EM Bird' - an electromagnetic induction device provided by a collaborator from AWI - will be suspended 80 metres under the aircraft to measure the thickness of the ice below.
For this project, it will be combined with a built-in snow radar, developed with collaborators at Lincoln Agritech and integrated with the EM Bird system at UC and AWI. In combination, the technology can simultaneously measure ice thickness and the depth of the snow layer on top.
It's an important breakthrough to be able to separate the thickness of the snow and ice, Professor Rack says.
"For the first time we will be able to directly assess the thickness and volume of complex coastal sea ice. We theorise this type of ice is a major factor in the global climate system - if it is changing, then there will be big consequences for our planet."
Sea ice helps sustain Antarctic 'bottom water', which is the deepest, coldest and densest ocean water. This bottom water helps remove carbon dioxide from the atmosphere, storing it at the ocean floor for a long time. It also helps circulate the world's oceans.
"The more sea ice is out there, the more Antarctic bottom water is created, so it's a critical part of oceanic and atmospheric circulation with huge global impacts," Professor Rack says.
Vast areas of Antarctic sea ice cover up to 20 million square kilometres in winter, reflecting sunlight and mitigating its warming effects on sea temperatures.
Sea ice trends are poorly understood because satellites can only reliably map their area. Only a few thickness measurements are taken from the ground every year, and they cover a relatively small area.
"Since the late 1970s, we've observed an increase in the area of coastal sea ice in Antarctica, which is the opposite of what one would expect," Professor Rack says. "Only very recently have we seen a decline, but also much more variability. We need to know more about the thickness of the ice and its overall mass to understand these changes."
The data collected will be used to develop a tailored satellite-derived ice thickness product for Antarctica's coastal region and will also provide observational datasets for computer simulations that will allow better forecasting.
The New Zealand Sea Ice Symposium 2023: Building Aotearoa's Sea Ice Science Vision will be held at the University of Canterbury February 13 -14. The national event is a "think tank" for strategies to progress sea ice science in New Zealand.
Additional information: University of Canterbury press release
RESEARCHER
Professor Wolfgang Rack
ORGANISATION
University of Canterbury
FUNDING SUPPORT
Marsden Fund Standard Grant
CONTRACT OR PROJECT ID
UOC2205
---