Research
Published 26 November 2021
New research focuses on connection between humans, gorillas and diseases in Uganda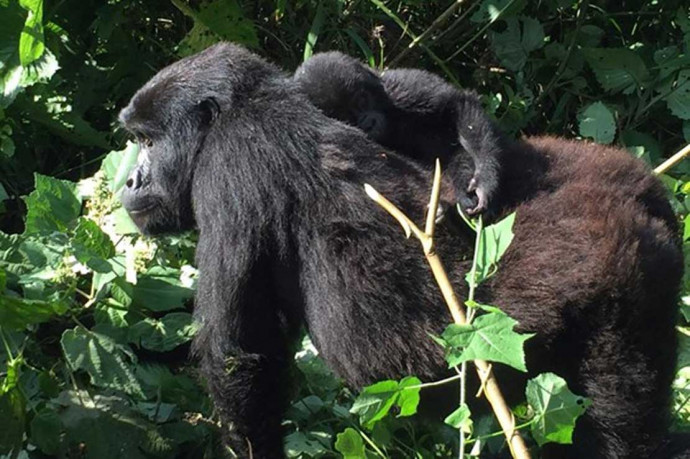 Mountain gorillas. Photo credit - Professor Hayman
New research suggests cross-species transmission of pathogens is intimately linked to human and environmental health, meaning areas with poor or challenging living conditions may be particularly susceptible to endemic and emerging diseases.
This story was originally published here.
School of Veterinary Science Disease Ecologist Dr Renata Muylaert and colleagues recently published the research paper titled 'Community health and human-animal contacts on the edges of Bwindi Impenetrable National Park, Uganda' in the journal PLOS ONE.
This research began after School of Veterinary Science Professor David Hayman was granted a fast-start Marsden Fund Grant in 2015 for the Uganda-based project, entitled 'Unpacking infection spill over dynamics', with Ugandan collaborators Conservation Through Public Health (CTPH), and colleagues from the United Kingdom and United States of America.

Dr Muylaert says many human infections have been transmitted or "spilled over" from wild animals. "At the same time, several pathogens from humans can bring diseases to wildlife, gorillas for example, who are vulnerable to diseases transmitted by people, including COVID-19."

Professor Hayman says emerging infectious diseases such as Ebola, HIV and pandemic influenza are examples of such spill overs. "As well as being of major importance to human health, infections that cross species boundaries also affect animal populations, including apes, amphibians and bats."

Dr Muylaert started working on this project in 2020 to investigate contact patterns and health using self-reported surveys in villages close to Bwindi Impenetrable National Park in Southwestern Uganda. The data was collected by the CTPH team and other collaborators along with Professor Hayman.

During these self-reported surveys with 100 participants, Dr Muylaert synthesised data on the habits of people and frequent symptoms, such as tiredness, headaches, and in less degree fever and coughing, as well as several other symptoms. Her analysis provided detailed information on the contacts with the mountain gorillas from Bwindi, as they are an endangered species. The team's research also focused on discussing the veterinary interventions and conservation efforts in the region, as the remaining mountain gorillas of the world are confined to forest remnants by villages, agriculture and livestock areas surrounding their habitat.
"We found out that there is a lot of contact going on between humans and livestock, but as expected, more rare contact events occur between humans and wildlife," Dr Muylaert says.
"People in the region reported a range of symptoms that are of concern from the perspective of infectious diseases, and by having information on symptoms and contacts, we can advance describing which microbes we can detect on people, livestock and wild animals in these regions.
"Contact with gorillas and their environment is to be expected given the local mountain gorilla conservation programmes and tourism. Also, some gorilla families have home ranges close to the park's perimeter, and so move out of the forest, spending time close to or at cultivated agricultural areas to feed on crops, such as sweet potato leaves and bananas," she says.

"In our work we report just one contact between a human and a gorilla, and this person was solving a conflict, as part of the Human and Gorilla Conflict resolution team. We need to gain a better understanding of where this interface between people, livestock and wildlife may be most active. This will help determine the strategies that could be used to minimise the risk of disease transmission at this interface. For instance, goats have free range close to the border of the forest, and this hard edge is probably where goats and gorillas are more likely to share waterways and grazing areas. Cows are more likely to be tethered at night but like the goats, are walked to new grazing areas each day," she says.
Professor Hayman says the key to the success of this project has been the excellent collaboration between CTPH, his team and the other researchers involved. This work is part of a larger project, developed with CTPH, that aligns with their aim of promoting biodiversity conservation by enabling people, gorillas and other wildlife to coexist through improving their health and livelihoods, recognising the interdependence of wildlife and human health.
The next step of this large project is to develop models to infer spill over events using genomic data on the microorganisms that are shared between humans, livestock and gorillas living close to the park. The team will test whether bacteria are more likely to share hosts than viruses, and whether viral spill over between hosts is made easier by their evolutionary relatedness.
You can learn more about the social and environment context on CTPH's website. CTPH has a strong focus on education on the topics of forest conservation, risks of disease transmission among humans, gorillas and domestic animals.
Additional information: The PLOS One article is available here
RESEARCHER
Professor David Hayman
ORGANISATION
Massey University
FUNDING SUPPORT
Marsden Fund
CONTRACT OR PROJECT ID
MAU1503: Unpacking infection spillover dynamics
---