Research
Published 4 September 2020
New Zealand researchers at 'turning point' with solar paint project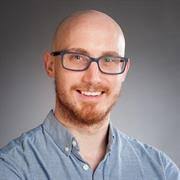 Dr Nathaniel Davis, VUW. Photo source: VUW staff page
Imagine if your roof paint could generate enough electricity to power your home. In a few years this could be a reality, as Victoria University researcher Nathaniel Davis gets one step closer to creating a solar paint
By Alexa Cook, originally published on 1 September 2020 on Newshub
Dr Davis says the paint contains luminescent molecules that absorb and emit light.
"You paint directly on top of the roof and then you put solar panels in your guttering. The paint will guide the light into the edge of your guttering system, then it'd be a single coat of paint and a little insulation of solar panels along the edge."
Unlike the large and expensive solar panels that currently power homes, the paint will have a narrow border of solar panels the width of your finger for absorbing the light from the paint's surface.
The idea has been around since the 1970s, but until now scientists around the world have been unable to make it work on a commercial scale.
The final challenge is to stop the paint's active material re-absorbing light, says Dr Davis.
"We really are at the turning point, at the make it moment, once we reach this last hurdle stone I can envision it becoming a product and seeing it on people's roofs in a couple years."
An average solar panel system on a New Zealand house will set you back about $9,000 for installation and materials. The solar paint is expected to cost up to 160 times less because once painted on it will last for decades and not require large, expensive solar panels to be installed.
The government has put nearly $2 million into the project through a variety of funding grants. This includes money from The MacDiarmid Institute, the Marsden Fund and the Ministry of Business, Innovation, and Employment.
Resene is also on board, working alongside Dr Davis and wanting first dibs on the solar paint.
General manager Nick Nightingale is excited by the project.
"It's important to control the intellectual property of developments such as this, too often technology gets lost. Lost to NZ and lost to the original inventors of it."
Meanwhile Shay Brazier from the Sustainable Energy Association says it's important to be realistic.
"It's great we're doing it in New Zealand, very exciting that we might have a chance to commercialise this. The test will be how quickly we can get it commercialised and whether it can realise those cost savings over time."
Energy expert Allan Millar believes solar power will get increasingly popular in the next ten years, leading to a mixed bag of benefits.
"Overall we could see reductions in our electricity cost, but as we transition more and more to renewable energy use there's more demand for that energy as well. It's sort of a balance."
With other countries pouring billions into creating a solar paint, the race is on for New Zealand to get there first.
RESEARCHER
Dr Nathaniel Davis
ORGANISATION
Victoria University of Wellington
FUNDING SUPPORT
Marsden Fund
CONTRACT OR PROJECT ID
VUW1915: 'Photon multiplying light harvesting antenna systems for luminescent solar concentrators'
---