Research
Published 10 February 2021
Under the moonlight: a little light and shade helps larval fish to grow at night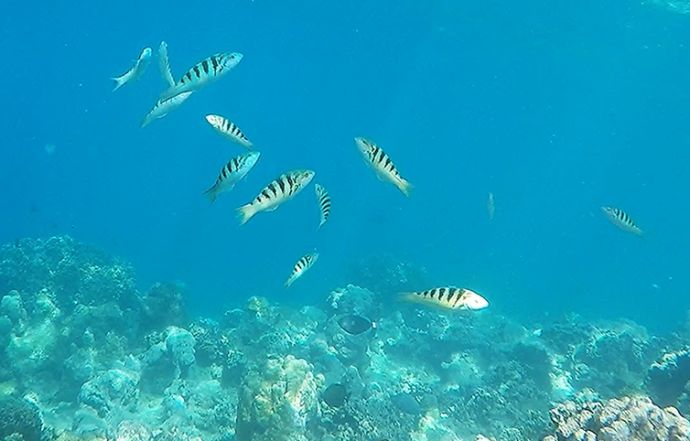 Adult sixbar wrasse in courtship. Photo supplied.
At night on any one of hundreds of coral reefs across the tropical Pacific, larval fish just below the sea surface are gambling on their chances of survival
By Jeffrey Shima, Craig W. Osenberg, Stephen Swearer and Suzanne Alonzo, first published in The Conversation on 5 February 2021
Our latest research shows the brightness of the Moon could play a major role in that struggle for survival by affecting the availability of prey and keeping predators away.
Understanding how that works could help in fisheries management, specifically the prediction of changes to harvested fish stocks that allow us to anticipate how many adult fish can be taken without destabilising the fishery.
Many fish populations experience boom-and-bust cycles largely because parents routinely produce millions of offspring that have very low, but fluctuating, survival rates.

The large number of larval fish that are produced means any environmental conditions — for example, increased nutrients — that improve survival odds even only marginally can lead to a big influx in the number of surviving offspring.
When the Sun goes down
Additional information: The Conversation
RESEARCHER
Professor Jeffrey Shima
ORGANISATION
Victoria University of Wellington
FUNDING SUPPORT
Marsden Fund
CONTRACT OR PROJECT ID
VUW1503: 'Born at the right time? Disentangling the effects of birthdate and developmental trajectories on fitness, population dynamics, and the evolution of life-history strategies'
---