Research
Published 8 May 2023
Wayfinding for Chinese language education research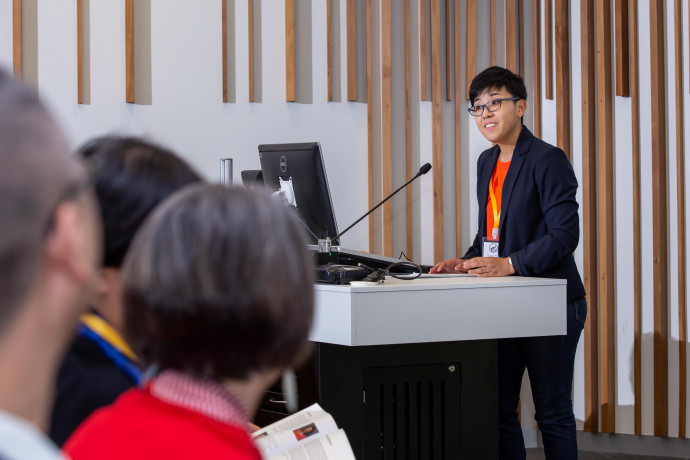 Dr Danping Wang opens a conference. Photo: Supplied.
Dr Danping Wang from Waipapa Taumata Rau The University of Auckland seeks new pathways for Chinese language education research around the world.
Since the arrival of Western missionaries in China in the 16th century, conquering the Chinese language has been a challenge for many in the Western world. When Michele Ruggieri, the first Jesuit missionary to settle in China in 1579, attempted to learn the Chinese language, his colleagues ridiculed him for pursuing what they deemed an insurmountable and trivial endeavour. Today, Chinese language education is still constrained by Western-centric perspectives and heavily influenced by political factors. According to the research that has been a focus of Dr Danping Wang's Marsden Fast Start grant, people who studied Chinese four centuries ago and today's learners hold almost the same views and attitudes towards learning the language.
In the past decade or so, there has been a wave of Chinese language learning around the world, including in Aotearoa New Zealand. However, according to Dr Wang's research, the media hype surrounding this trend is not proportional to the actual development of the field of Chinese language education pedagogy and research. Despite China being New Zealand's largest trading partner, Chinese language education is on the decline and falls well behind Japanese, Spanish and French in numbers of students. Chinese departments in major universities are on the verge of disappearing. Without Chinese departments, future policymakers will be unable to gain in-depth insights from local higher education institutions. This is extremely dangerous for Aotearoa, a nation located in the Asia-Pacific region.
Chinese immigrants were among the first settlers to arrive in Aotearoa and have a history of over 180 years in the country. However, in media coverage promoting Chinese language learning in the past decade, there has been little mention of the history of Chinese language education among the local Chinese community and schools in Aotearoa. Dr Wang's research aims to fill this gap. A new book on Chinese language education research, co-edited by Dr Wang and Professor Martin East (University of Auckland), with an introduction by Professor Patsy Duff (University of British Columbia), will be published in 2023 as the first of its kind in Aotearoa. The book contains chapters authored by nearly 30 scholars and frontline teachers and covers research from preschool to university, communities to schools, and families to society at large.
In the conclusion of this book, Dr Wang proposes using the Māori concept of Wayfinding to seek new paths for Chinese language education research in the Western world. To build New Zealand's leadership in international Chinese language education research, Dr Wang proposes using indigenous epistemological frameworks to address colonial issues. For sustainable and transformational change to occur, the principles of the wayfinding framework may serve as a decolonising strategy; a more holistic form of guidance that seeks to de-centre the colonial approach to language teaching.
This project has brought about a transformative change in Dr Wang's personal growth as a researcher. Growing up in China during a time of fervent enthusiasm for learning from the West, she completed her doctoral degree in Hong Kong; a former British colony. Through the Marsden project, she not only learned about decolonising research methods but also participated in the Ministry of Education's NCEA reform as a Subject Expert Group member, facilitating the introduction of Māori epistemology into the Chinese language curriculum.
As the Marsden project nears its conclusion, Dr Wang is about to embark on a new chapter in her life as a researcher in humanities education and foreign language education. Thanks to the significance of the Marsden project outcomes, she has been able to collaborate with Peking University to establish a centre for Chinese language education research, further promoting diverse epistemologies and practices in the field of foreign language education. She is also part of a newly funded research grant from Canada's Social Sciences and Humanities Research Council that will further explore issues in Chinese language education internationally.
RESEARCHER
Dr Danping Wang
ORGANISATION
Waipapa Taumata Rau The University of Auckland
FUNDING SUPPORT
Marsden Fund
CONTRACT OR PROJECT ID
UOA1925
---