Do glaciers drive diversity?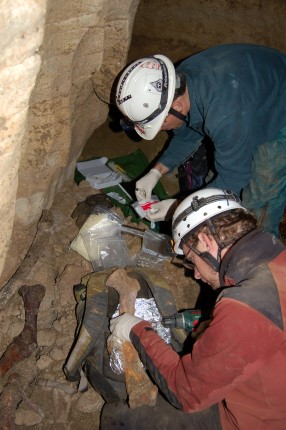 Sampling Ice Age moa bones, Gradungula Passage, Honeycomb Hill, Oparara Valley near Karamea. Photo credit Nic Rawlence, Jamie Wood, and Jeremy Austin
Posted: Thu, 3 Nov 2016
Dr Nicolas Rawlence from the University of Otago's Zoology Department is one of several researchers to receive Marsden funding that is utilising the rapidly growing field of ancient-DNA technology.
Dr Rawlence will use his Fast-Start grant to explore the effects of the last glacial period on the distribution of bird and plant species in the Southern Alps, using a combination of ancient-DNA, carbon-dating, and stable isotope analyses.
Glaciers have traditionally been seen as causing great damage to ecosystems, with previous genetic studies indicating reduced biodiversity in many glaciated regions of the world.
However, new evidence from mountain ranges in temperate regions, such as the Andes, Himalayas, Pyrenees and New Zealand's Southern Alps, suggests the opposite. Glaciation may actually be a key force in structuring biodiversity along mountain chains by isolating populations which in turn encourages new species to emerge.
Using DNA extracted from fossil bones, and organic material and pollen preserved in sediments, Dr Rawlence will investigate 'real-time' changes in family history and geographic distribution of iconic alpine bird species (moa, rock wren, and kea) and plant species in the Southern Alps, following the last glacial period.
In contrast to traditional genetic methods, ancient-DNA analysis, along with a combination of other tools, will allow exploration of what was happening at precisely dated times in the past, thus robustly reconstructing the recent evolutionary history of New Zealand's animal and plant life.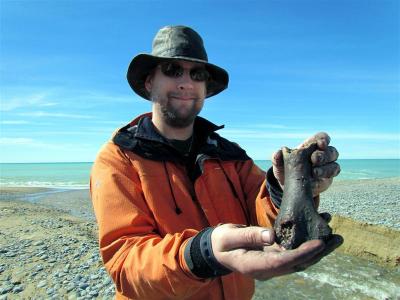 Total Funding: $300,000 (excl. GST) over 3 years
Researchers: Dr Nicolas Rawlence, Department of Zoology, University of Otago, PO Box 56, Dunedin 9054