Submarine landslides on the move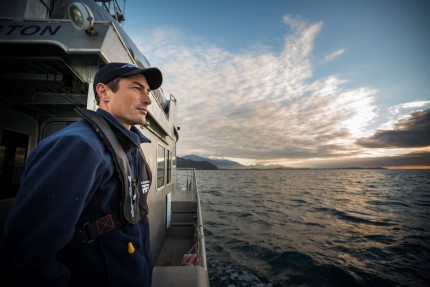 Dr Joshu Mountjoy on RV Ikatere. Tsunami hazard project off Kaikoura. Photo by Dave Allen
Posted: Thu, 3 Nov 2016
Some of the largest tsunamis on Earth have been generated by submarine landslides. But not all landslides generate tsunamis.  Their potential to do so depends primarily on their speed – the faster the landslide the greater the likelihood of generating a tsunami.
The most widely known trigger of submarine landslides is the violent movement of the seafloor as a result of an earthquake.  However, Dr Joshu Mountjoy from NIWA and Dr Gareth Crutchley from GNS Science believe that other short-lived processes may affect where and how submarine landslides occur.
This duo and their research team, which includes scientists from New Zealand and Germany, have received a Marsden Fund grant to determine whether pockets of pressurised gas trapped beneath a submarine landslide, or liquefaction within the landslide, can trigger slope failure and cause the landslide to keep moving.
Off the northeast coast of New Zealand lies the Tuaheni landslide complex, one of the few global examples of an active slow-moving submarine landslide – and the perfect opportunity to study an active landslide on the sea floor.
Dr Mountjoy will use 3D seismic data collected on the RV Tangaroa, as well as sediment core samples collected on the RV Sonne, to look for evidence of pressurised gas and liquefaction in the Tuaheni landslide complex.
Cutting-edge laboratory experiments on sediment samples will be carried out to determine how the landslides respond to gas pressure build-up and earthquake motions.
The resulting data will be used to model various scenarios by which landslides are initiated and move slowly, or alternatively, fail catastrophically under the influence of both gas pressure and earthquake shaking. This work will help to determine the tsunami hazard potential of such features.
Total Funding: $870,000 (excl. GST) over 3 years
Researchers: Dr Joshu Mountjoy, Ocean Geology, NIWA, Private Bag 14901, Kilbirnie, Wellington 6241