Alexander Sneyd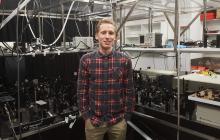 2017: Mr Alexander Sneyd, University of Cambridge (currently at Victoria University of Wellington), Rutherford Foundation PhD scholarship for research entitled: "Application of Metal Halide Perovskites and Other Semiconductor Materials to Photovoltaic Devices"
One of the most pressing issues of our time is climate change. Its consequences range from rising seas to more severe droughts. Despite these threats, we still only get 1% of our global energy from solar power –one of the most effective ways of combating climate change. The main reason for this is that today's silicon-made solar panels are too expensive. So, if we want to harvest electricity from sunlight on the global scale, we need to develop cheaper alternatives.
Solar cells made from metal halide perovskites are one possibility. They have seen a remarkable increase in solar cell efficiency from 3.8% in 2009 to a competitive 22.1% in early 2016, with some promises to even reach up to 30%. Crucially, their low-cost and easy fabrication – they can be "printed" – means they can be competitive commercially. Another great potential candidate for low-cost solar cells are organic semiconductors. These materials have attracted interest due to their ingenious ability to 'split' single electrons into two electrons, boosting the amount of electricity that can be produced.
For both perovskites and organic semiconductors, there is still much work needed, especially around improving stability and efficiency, lowering toxicity, and finding the right materials to use in tandem. We also need to fully understand the fundamental processes that play out, and how exactly electrons in these materials respond to sunlight.
Mr Alexander Sneyd from Victoria University of Wellington has received a Rutherford Foundation Trust scholarship to pursue a PhD at the University of Cambridge investigating the fundamental physics of alternative solar cell materials such a perovskites and organic semiconductors. The University of Cambridge has a strong emphasis on developing renewable technologies, and he will join the Optoelectronics group led by Professor Sir Richard Friend. At Cambridge, Mr Sneyd will work with leading experts in optoelectronics, and his research will ideally help solve one of the world's preeminent issues: climate change.