Thomas Corbett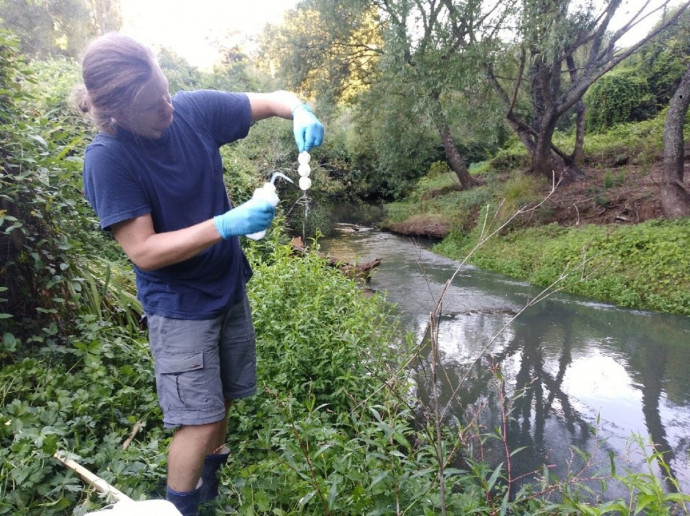 Dr Thomas Corbett tests nutrient levels in an urban stream. Image: supplied
2022: Dr Thomas Corbett, University of Waikato, has been awarded a Rutherford Foundation Postdoctoral Fellowship for research titled: 'Microbially Enhanced Silicate Weathering for CO2 Sequestration'
We need multiple tools to overcome and reverse manmade climate change, and time is not on our side. One promising technology, carbon sequestration, takes excess carbon dioxide from the atmosphere and converts it into useful products. Silicate weathering – where microbes and rocks work together over millennia to sequester carbon, is one of nature's tools for controlling carbon dioxide levels. Unfortunately for us, the millennia timescales of silicate weathering make it impractical as a climate restoring technology. But what if we could rapidly accelerate the timescales of silicate weathering?
In his Rutherford Foundation Postdoctoral Fellowship, Dr Corbett aims to develop passive weathering reactors containing silicate rocks inoculated with locally sourced microbes. By using techniques across microbiology, chemistry, and geology he'll examine how microbe identity, weathering conditions (such as temperature), and additives alter weathering rates. Thomas seeks to engage with local iwi Ngati Pukenga (Te Moana-a-Toi/Bay of Plenty) and farmers throughout the project – a particularly important component according to Dr Corbett who views mātauranga Māori as a cornerstone of research in Aotearoa.
We may or may not not be able to make up for lost time, but Dr Corbett believes we can do better in the future. Providing new insights into one of nature's oldest processes at a critical moment in human history, the time is now.