Neil Vallelly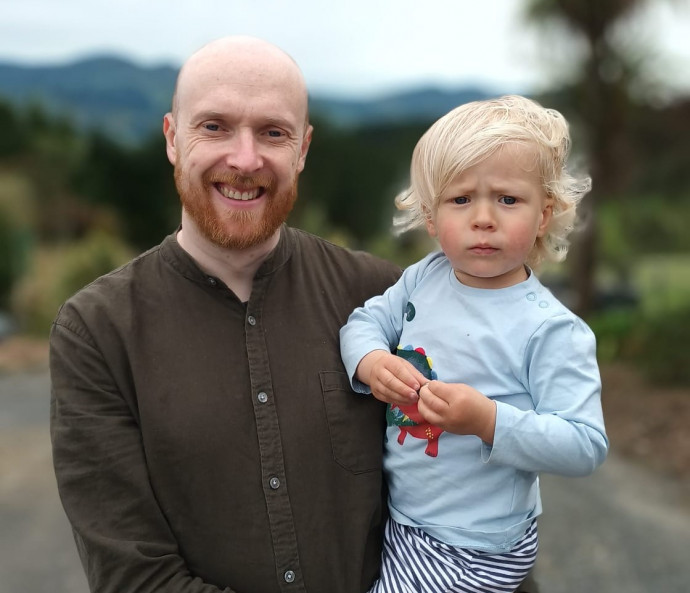 Dr Neil Valley and his son (Photo: supplied)
2021: Dr Neil Vallelly, University of Otago, has been awarded a Rutherford Foundation Postdoctoral Fellowship for research entitled: 'The Borders of Capital: Neoliberalism and Regimes of Migrant Detention in Aotearoa New Zealand.'
Contemporary capitalism depends on a borderless world of global markets and free movement and trade. Paradoxically, however, borders have become the sites of unimaginable suffering, where millions of migrants and refugees are detained or imprisoned for indefinite periods. While the treatment of asylum seekers is often criticised by journalists and human rights aid agencies, few of these criticisms have linked border policies to the history of neoliberal economic and social policies.
This project will build on Dr Vallelly's expertise in intellectual and political history of neoliberalism with his growing research into forced displacement, borders, and refugee issues. He will examine the intellectual history of neoliberalism in the 20th century to identify how the "neoliberal thought collective" imagined and theorised the role of borders and migration within a neoliberal society. Using Aotearoa as a case study, Dr Vallelly will look at how migration and border security policies reflect and adapt the original ideas of neoliberal intellectuals. He will also address how these policies maintain the current global power dynamics which favour economically developed Western countries.
Dr Vallelly will also study contemporary practices of migrant detention in Aotearoa, showing how detained migrants are victims caught between neoliberalism and migration policy. This will illustrate how the plight of refugees and asylum seekers in Aotearoa is tied up in domestic economic and social policy. The findings of this study can help policymakers and aid agencies attend more comprehensively to the needs of refugees and asylum seekers.