Beaven Medal
Health Research Council of New Zealand Medal. The medal may be awarded to an individual or research team for the successful translation of research into clinical practice, engagement with community and providers of clinical health care, and a commitment to making a difference to the health outcomes and lives of patients
Award details
Discipline: Medical and health sciences
Award offered: yearly
Prize: medal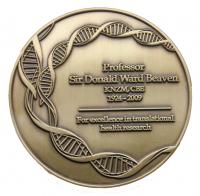 The Beaven Medal, named after the late Professor Sir Donald Ward Beaven, KNZM, CBE (1924–2009) (PDF 58kb), acknowledges Sir Don's long time interest in translating research into clinical practice. The medal is offered annually for excellence in translational health research.
Current status
If you have any queries about making a nomination for this award please email: kpalastanga@hrc.govt.nz
Further information can be found on the HRC website.