Beaven Medal
Health Research Council of New Zealand Medal
The Beaven Medal is awarded to an individual or research team for excellence in translational health research, that has had high impact on clinical practice and patient health, engagement with community and providers of clinical health care, and a commitment to making a difference to the health outcomes and lives of patients.
Award details
Discipline: Medical and health sciences
Award offered: Yearly
Prize: Medal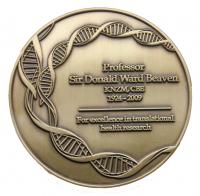 The Beaven Medal, named after the late Professor Sir Donald Ward Beaven, KNZM, CBE (1924–2009), acknowledges Sir Don's long-time interest in translating research into clinical practice.
All nominees should have an HRC connection. Nominees (individuals or team) are eligible to receive the Beaven Medal more than once, with a five-year stand down period following receipt of award. Current HRC Council members are not eligible to receive the award while in post.
Current status
If you have any queries about making a nomination for this award please email Dr Katie Palastanga.
Further information can be found on the HRC website. The closing date for nominations is 4 May 2020.