Hutton Medal
Earth, plant and animal sciences award for outstanding work by a researcher in New Zealand, awarded annually.
Award details
Discipline: Earth sciences, Plant sciences and Animal sciences
Award offered: yearly
Prize: medal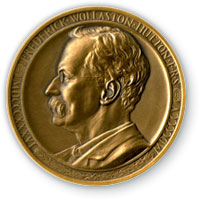 Please note: From, and including 2017, the Hutton Medal will be awarded annually for animal sciences, earth sciences or plant sciences, rather than one discipline per year in rotation:
to the researcher who, working within New Zealand, has significantly advanced understanding through work of outstanding scientific or technological merit.
The awardee must have received the greater part of his/her education in New Zealand or have resided in New Zealand for not less than 10 years.
The medal will not normally be awarded in the same discipline two years in a row.
Current status
The 2019 round has closed.