Charles Fleming Award for Environmental Achievement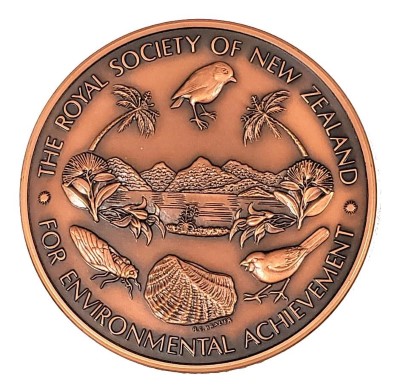 Environmental science award for protection of the New Zealand environment, awarded every three years.
Award details:
Discipline: Environmental
Award offered: Every three years
Prize: Medal and cash prize
The award honours those who have achieved distinction in the protection, maintenance, management, improvement or understanding of the environment, in particular the sustainable management of the New Zealand environment. The award is made every three years to an individual and consists of a medal and a cash prize of $2000.
Charles Alexander Fleming KBE FRS FRSNZ (1916 – 1987) was a geologist, ornithologist, avian palaeontologist and environmentalist. From a young age, he was involved in collection expeditions throughout New Zealand. He formed part of the team of scientists investigating the country's ocean floors, currents and life in deep ocean. He investigated New Zealand's cicadas and diverse birdlife throughout his career. His love of nature and the environment led him to conservation, and he became involved in Save Manapouri Campaign, a spokesperson for Native Forest Action Council and the Royal Forest and Bird Protection Society of New Zealand.
Please note: The successful recipient is required to take part in a national public proramme, visiting selected Royal Society Te Apārangi Branches, in the year following the award.
Current status
Nominations for the Charles Fleming Award for Environmental Achievement are now closed. Nominations will next open in January 2025.
If you have any queries about making a nomination for this award please email: academy@royalsociety.org.nz