A new archaeology of our threatened Māori rock art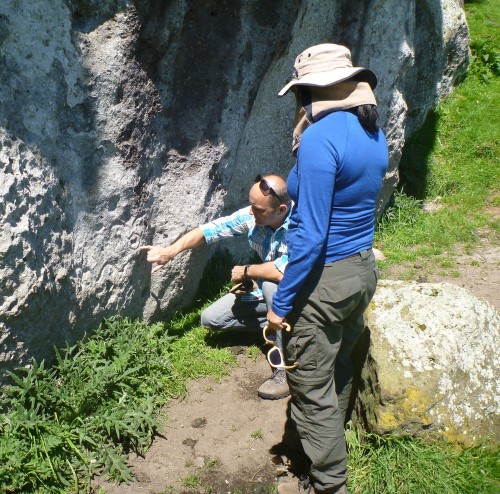 Dr Gerard O'Regan pointing out a face carved in a cliff in the central North Island. Sometimes the tupuna (ancestor) faces are made up from a pair of curved eyes over a mouth - sometimes only a pair of 'eyebrows' staring out at us from the cliffs
Dr Gerard O'Regan from the University of Auckland will undertake the first systematic study of Māori rock art across the North Island, to document and protect this increasingly threatened aspect of our cultural heritage
Published 2 November 2017
Rock art is a crucial medium to understand the worldview of past peoples. Within New Zealand, however, rock art remains amongst the least understood and most at-risk form of Māori heritage. This is particularly true in the North Island. Until recently, there were only 30 recorded rock art sites in the North Island but we now know that there may as many as 120 sites.
Dr Gerard O'Regan from the University of Auckland's James Henare Māori Research Centre has received a Marsden Fund Fast-Start grant to initiate a Māori archaeological study of threatened North Island rock art. Working with local iwi and kaitiaki (guardians), Dr O'Regan will undertake a systematic archaeological survey and analysis of North Island rock art sites. This is the first time such work has been undertaken in the North Island of Aotearoa New Zealand. The planned survey encompasses sites across Auckland-Northland, Hauraki-Coromandel, Waikato, Bay of Plenty, King Country, Tokoroa, Taupō, Rotorua, Taranaki, and the East Coast. Dr O'Regan will also investigate the different ways that Māori used rock art, whether rock art was a common practice shared across North Island iwi, or whether it originated as a series of unrelated innovations.
Mātauranga Māori (Māori knowledge) about rock art is currently limited, a consequence of colonial actions that disrupted connections between Māori and their lands. In addition, weathering, erosion, and land development for forestry or farming threatens the continued survival of these cultural treasures. Documenting the nature and location of rock art across the North Island will enable Māori to better protect and generate awareness of Aotearoa New Zealand's heritage. It will also provide a new window into the worlds of our ancestors.