Is the missing carbon dioxide hiding in Fiordland?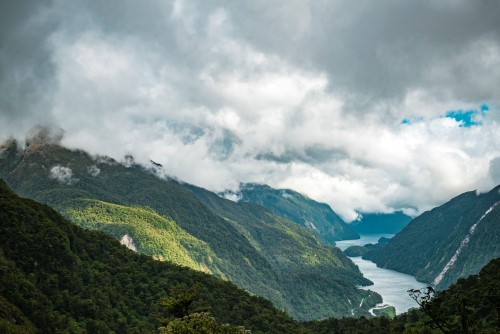 Native bush in Doubtful Sound, Fiordland National Park, at the South-Western tip of New Zealand's South Island. Credit: Dave Allen, NIWA
Dr Peter Sperlich from NIWA will examine the amount of carbon dioxide entering and leaving the atmosphere around Fiordland to understand the possible impacts of our largest forest on climate change
Published 2 November 2017
To predict the impacts of climate change on New Zealand we need to be able to estimate future levels of carbon dioxide (CO2) in the atmosphere. This requires a good understanding of the amount of CO2 that is both entering and leaving the atmosphere (CO2 flux) today. Yet, there is currently large disagreement in the estimates of land-based CO2 fluxes. In particular, the CO2 flux for Fiordland, one of the largest indigenous forests in New Zealand, has recently been contested.
A recent study indicates that the amount of CO2 absorbed from Fiordland's atmosphere may be underestimated. Forests play an important role in the flux of carbon. They release CO2 during plant and soil respiration, and uptake CO2 during plant photosynthesis. Dr Peter Sperlich from the National Institute of Water and Atmospheric Research (NIWA), in collaboration with a multinational team of researchers, has been awarded a Marsden Fund Fast-Start grant to determine if Fiordland's forest is more productive than previously thought and can account for the missing CO2.
Dr Sperlich will make extensive use of isotopic analyses to probe the processes that affect CO2 flux, and how these processes are affected by different environmental conditions. In particular, he will measure CO2 and related trace gases in coastal background air, before and after it has passed over Fiordland. This will lead to an in-depth understanding of the CO2 flux in Fiordland, and whether it can account for the difference in current atmospheric estimates in this region.
Findings from this study will improve current methods for estimating regional carbon fluxes. This will increase our certainty in New Zealand's inventory of greenhouse gas emissions that are reported to the United Nations Framework Convention on Climate Change.