Journey across science and across the world: Building biosensors from Scotland to New Zealand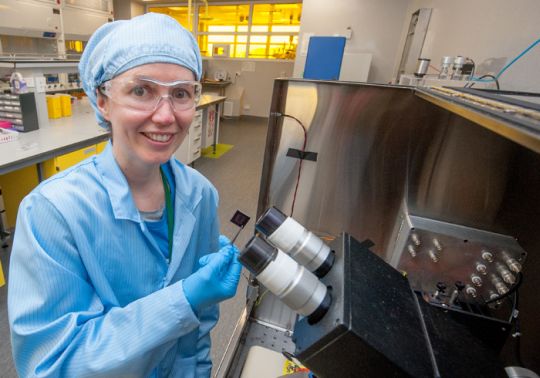 Dr Natalie Plank holding a carbon nanotube transistor device.
Dr Natalie Plank, a senior lecturer from the School of Chemical and Physical Sciences at Victoria University of Wellington and a Principal Investigator of the MacDiarmid Institute for Advanced Materials and Nanotechnology, together with a team of national and international researchers, has received a Marsden Fund grant to investigate biosensors for hormones, that could be used in the home or doctor's office
Biosensors are devices that convert biological responses into electrical signals. They are used to detect and measure specific substances in fluid, such as levels of glucose in the blood. These instruments have a wide range of applications ranging from clinical through to environmental and agricultural. In the field of medicine, biosensors are a popular non-invasive technique that can rapidly deliver a digital profile of health diagnostics from bodily fluids. Thus patients do not need to go through costly and time-consuming lab protocols.
From Scotland to New Zealand...
Dr Plank's enthusiasm for science started when she was just 12 years old and has grown over the years – and now she is an experienced nanoscientist. She completed a Bachelor of Science with Honours in Astrophysics at the University of Edinburgh before embarking on a Master's degree in microelectronics. She then completed her PhD on the functionalisation of carbon nanotubes for molecular electronics at the University of Edinburgh in 2006, before a three-year stint as a postdoctoral researcher at the University of Cambridge.
Dr Plank's research career in New Zealand started in 2009 at Victoria University of Wellington with a Foundation for Research, Science and Technology postdoctoral fellowship, before becoming an Associate Investigator at the MacDiarmid Institute for Advanced Materials and Nanotechnology.
A budding Fast-Start career
In 2010, a prestigious Marsden Fund Fast-Start grant gave her the opportunity to build her own research group and to train the next generation of Victoria University of Wellington students in the joys of nanoelectronics. Her project laid the foundations for investigating how nanowires behave as a biosensor. This project broadened her research perspectives and seeded new research studies. Consequently, Dr Plank and her team developed a highly effective biosensor, called an aptasensor, which can be used for the-real time detection of a wide range of small molecules in fluids such as ions (e.g. potassium) and hormones (e.g. oestrogen).
An aptasensor uses a DNA aptamer as a sensing element. A DNA aptamer is a short strand of DNA that selectively binds to a target substance. When the DNA aptamer binds to a target molecule it changes its shape, and this shape change can be captured as an electronic signal. The electrical signal can then be processed to identify and quantify the target substance.
Enlightened by this discovery, Dr Plank and her team have begun to develop biosensor arrays that can be tuned to detect and measure hormones in her new Marsden grant. These can be detected from the single measurement of a complex biological sample, such as blood. Dr Plank plans to develop this sensing platform further, with enhanced selectivity and sensitivity.
Body fluids such as blood consists of variety of molecules, and the interactions between those molecules create inherent noise in the electrical signal. The majority of electronic aptasensors made so far have been unable to eliminate this problem. To solve this, they will employ new nanotechnology methods to capture the electrical signal effectively. Furthermore, to realise the full benefit of this biosensor array, Dr Plank will develop an electronic read-out system that is capable of reading multiple diagnostics in parallel. These aptasensor arrays will be coupled with an advanced signal processing technology to train the sensor to recognise targets.
This research team has unique potential to develop this new class of ultra-sensitive aptasensors to profile molecules in biological fluids with real world applications. This research will generate new knowledge via this cutting-edge technology that can be readily transferred to other sensing systems.
Being a mum and a physicist is not always easy
With a daughter under two years of age, Dr Plank juggles an active career with a very busy home life. Her husband is also an academic and lectures at the same university, which Dr Plank believes makes life easier. "Working in similar jobs at an institution that has a good childcare facility makes having a research career possible", she says. Dr Plank believes that they are able to find a balance between their professional and personal lives by sharing the childcare and home duties.
At work, Dr Plank finds it a little strange to be in a male dominated research area. At the academic level, the gender balance in physics is not representative of the general population. "Often I'll be the only woman in a meeting," says Dr Plank. This gender imbalance has prompted her to encourage young females to enter the academic world of physics.
At Victoria University of Wellington, Dr Plank is a role model for female undergraduates in her field of study. She organises casual meetings, often with cake and coffee, to provide advice, and encourage them to interact and share their experiences. "The female students here are talented, hard-working, and highly engaged with their studies, but we definitely need more of them," says Dr Plank.
Dr Plank believes that the gender imbalance in the field of physics starts in high school. "The career pathways and potential jobs for students interested in physics are not always clear," she argues. There are many real-world applications of physics, and Dr Plank's research combining nanoelectronics with biology to solve problems in healthcare is a perfect example.