Cells and whistles: supercharging our biodiversity monitoring toolkit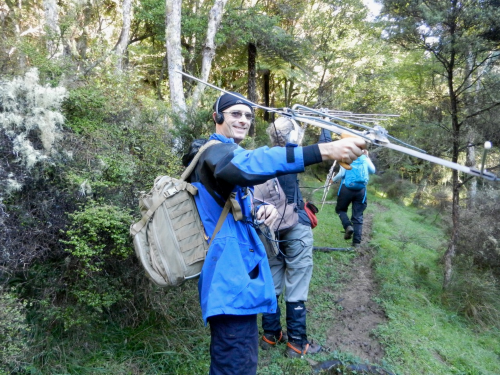 Professor Stephen Marsland (left) using a microphone to record birdsong with researchers Karen Mason (middle) and Monika Nowicki (right). Photo provided
Researchers from the University of Auckland and Massey University will combine sound recordings with statistics, software, and genetic information to better estimate the populations of our endangered, but delightfully noisy, native wildlife
Published 2 November 2017
An incredible conservation movement is unfolding in New Zealand, with thousands of community volunteers driving a groundswell of public effort to protect our native animals and restore our natural habitats. For wildlife conservation to be effective, we need to address whether populations are growing or declining, and which interventions work best. These questions are very hard to answer, especially for species that live in dense forest or the open ocean.
A new Marsden Fund grant will support Associate Professor Rachel Fewster from The University of Auckland's Department of Statistics and her research team to address urgent issues in biodiversity monitoring and management. This team will develop a new statistical framework to improve wildlife monitoring using data already collected in New Zealand by volunteers, researchers, and conservationists.
Dr Fewster and her team plan to develop methods to estimate the number of individual animals from sound recordings such as birdsongs or dolphin calls. This will involve comparing pairs of song bursts to weigh up the chances that they come from the same individual or different individuals. Genetic information from items the birds leave behind (faeces and feathers) will supplement the acoustic records, identifying individual birds and their kinship.
Professor Stephen Marsland from Massey University's School of Engineering and Advanced Technology has also received a Marsden Fund grant for a complementary project to reliably detect and analyse birdsong from these recordings. There are currently no computational methods that can accurately interpret these recordings. He will use mathematical and computational tools to estimate the abundance of bird populations from the number of calls made. The tools that Professor Marsland develops could also be extended to detect and recognise predators and other endangered native species such as bats.
Professor Marsland and Dr Fewster will collaborate to integrate their new methods into the freely available AviaNZ software program (http://avianz.massey.ac.nz). The software can be used by anyone – from the public to the Department of Conversation – to analyse acoustic data for conservation efforts. These projects will improve the monitoring of New Zealand's most vulnerable animal populations, and contribute to better conservation and wildlife management.