Taku Ara Rā: Walking in our ancestors' footsteps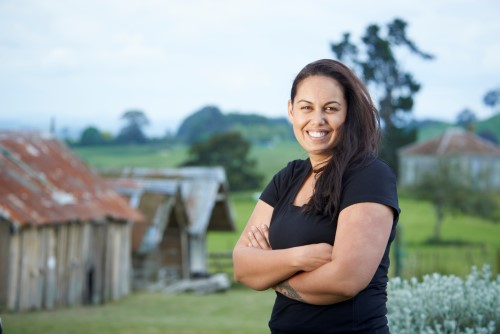 Dr Naomi Simmonds. Credit: University of Waikato
Dr Naomi Simmonds from the University of Waikato will lead a hīkoi to rediscover the journey of the ancestress Māhinaarangi, in order to reconnect descendants with the knowledges, stories and land along her journeys
Published 2 November 2017
Māhinaarangi, of Ngāti Kahungunu, is a prominent ancestress for many iwi in Aotearoa. Perhaps her most famous act was to journey, whilst heavily pregnant, some 500kms from the lands of her people in Kahungunu (near Te Aute in the East) to those of her husband, Tūrongo, at Rangiātea (near Te Awamutu). Māhinaarangi purposefully made the journey across ridges and ranges, lakes and rivers. Her hīkoi (walk) was an impressive feat and it provides both a physical and conceptual map as significant as those of more celebrated European cartographers. Yet her legacy is largely hidden today, as these lands have been renamed, surveyed and privatised. Māhinaarangi was a cartographer in her own right - mapping her stories, histories, language and knowledge onto the land upon which her footsteps fell.
Dr Naomi Simmonds (Raukawa) from the University of Waikato has been awarded a Marsden Fund Fast-Start grant to explore the tribal geographies encapsulated in Māhinaarangi's journey. Alongside other descendants, she will use indigenous research methods of hīkoi (walking) and pūrākau (storytelling) to rediscover, travel, and map Māhinaarangi's trail. While hīkoi has been more widely used as a means of protest and resistance in recent decades, this research will extend the practice to affirm and celebrate Māori identity and history.
Through this process, Dr Simmonds will work with iwi to help reconnect tribal stories about Māhinaarangi to physical places, learn from the land, and restore relationships to place as a central aspect of Māori identity. She says that this project has at its heart an assumption that reconnecting to the lands, environments and knowledges of our ancestors through pūrākau and hīkoi can provide positive pathways for descendants of Māhinaarangi in contemporary Aotearoa.