Efthimia Christoforou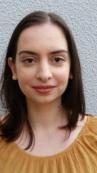 2016: Ms Efthimia Christoforou, University of Cambridge, Rutherford Foundation PhD scholarship for research entitled: "The role of placental endocrine function in determining the health of the mother and her offspring."
Complications during pregnancy are common and threaten the life and health of the mother and her developing baby. Such complications include pregnancy-induced hypertension, gestational diabetes and abnormal fetal growth. Impaired fetal growth can also have more long term consequences such as an increased risk of the baby developing ischaemic heart disease, hypertension and type-2 diabetes as adults, while mothers who develop a pregnancy complication are more likely to suffer from cardio-metabolic diseases in later motherhood. Thus, it is important to understand the regulation of fetal growth and maternal health during pregnancy.
The placenta is a transient organ that interfaces the mother and fetus. It is responsible for transporting nutrients from the mother to the fetus, and additionally produces a variety of hormones. However, we currently do not fully understand the significance of these placental hormones on the fetus in materno-fetal health.
During her PhD at Cambridge University, Ms Christoforou will work with leading experts to resolve the question of how the memory of a pregnancy that is complicated by altered placental hormone signalling, is transmitted and maintained in the mother and offspring – hence making them more susceptible to metabolic and cardiovascular disease in later life. This will be accomplished using sequencing techniques to assess changes in the genome of the mother and fetus during pregnancy and relate this information to long-term health.
The unique combination of genetic models and techniques available at the University of Cambridge enables a comprehensive assessment of the role of placental signalling in the regulation of fetal growth, maternal health and long-term wellbeing, which is important for understanding the pathology of pregnancy complications and disease programming.