Jessica Rodrigues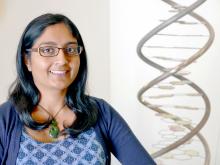 2017: Dr Jessica Rodrigues, Plant and Food Research, has been awarded Rutherford Foundation postdoctoral fellowship for research entitled: "Harnessing sequence variation of MYB genes across plant genomes for a healthy and colourful future"
Colourful fruit and vegetables are not only pleasing to the eye and taste buds, but also contain antioxidants which have numerous health benefits.  Anthocyanins are a major group of antioxidant pigments that are thought to prevent or hinder human diseases ranging from heart disease to cancer. The pathway that produces anthocyanins is encoded in genes within the plants' DNA.  Proteins from the MYB family interact with plant DNA to regulate the expression of genes in this pathway.  The levels of MYB proteins in a plant cell are themselves highly regulated, but the mechanisms are not well understood.
Dr Jessica Rodrigues has been awarded a Rutherford Foundation New Zealand Postdoctoral Fellowship to study how genetic variation across MYB proteins is important to New Zealand's favourite fresh produce, including kiwifruit, grape, strawberry, apple, peach, and potato. She will catalogue previously uncharacterized MYB proteins and investigate how they evolved within and among different crop species.  She will use sophisticated computational algorithms to identify regulatory features of MYB proteins.  By identifying regulatory features that inhibit or enhance anthocyanin production, Dr Rodrigues will identify important molecular markers of desirable traits for selective plant breeding.  Crop breeding assisted by such molecular markers is faster, more accurate and more reproducible than conventional breeding approaches.
This research will provide valuable insights into how plants have evolved.  It will also allow the breeding of plants with enhanced production of beneficial anthocyanins ensuring a healthy future for both New Zealand produce and the New Zealanders that consume them.