Otumoetai Primary School - Katrina Stephenson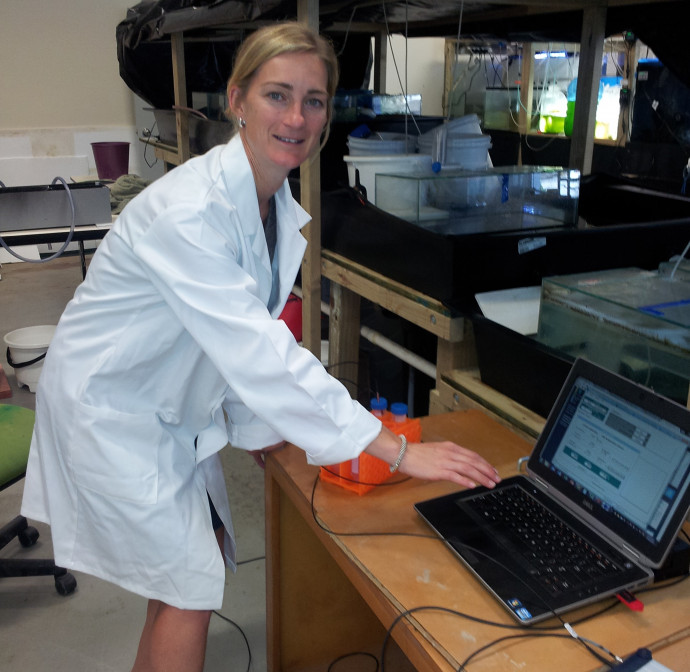 2015 | Treasuring the Bay at the Coastal Marine Field Station
School: Otumoetai Primary School
Host: Coastal Marine Field Station
Region: Bay of Plenty
Katrina Stephenson is a primary trained teacher who has worked full time in the classroom for the last nine years.She is working towards her Graduate Diploma in Primary Science teaching and is part of the three member Science Curriculum team at her school. The leader of this team is also a previous science fellow.
Katrina was hosted by the Coastal Marine Field Station Environmental Research Institute, University of Waikato at Sulphur Point Tauranga.  She worked alongside university students and staff on a variety of projects.
Katrina was immersed in the life of a University coastal marine research facility in which time is shared between teaching and learning, environmental monitoring, coastal and marine research and discovery. She also learnt the importance of nurturing connections between various stakeholders.
Katrina was involved in a number of research projects which included:
The Port of Tauranga dredging project in which sediment samples are collected and analysed prior to, during and after the impending dredging process which will widen current shipping channels
Estuary sediment sampling to gauge the impacts of past and present urbanisation
Larval fish sampling and investigations related to their nursery habitats
Harbour sediment sampling to investigate environmental effects of log runoff from timber processing
A field trip to Tairua to investigate how crabs process marine plant leaf detritus in the sediments
Artificial reef building to monitor the effects of urbanisation in the local area
Water chemistry experimentation for a project relating to the MV Rena grounding
The field station also hosts The House of Science. This charitable trust links the University of Waikato Tertiary Partnership to primary and secondary schools in the region. Its goals are to resource and connect the local science community and while on placement Katrina has seen this in action. She has had the opportunity to network with primary, intermediate and secondary school teachers, scientists in other industries and other interested stakeholders such as MBIE, Priority One, TeWharekura o Mauao and The Regional Aquaculture Organisation.
As a result of these rich experiences and the in-depth learning on both the Leadership Course and the curriculum development days, Katrina feels confident and capable to lead Science teaching and learning back at her school.
She is extremely grateful to the staff at the Coastal Marine Field Station who have been generous in sharing their time and expertise with her. She would also like to take this opportunity to acknowledge The Science Teaching Leadership Programme, funded by the New Zealand Government and administered by the Royal Society of New Zealand and thank them for this amazing opportunity.