Pinehaven School - Jim Bashaw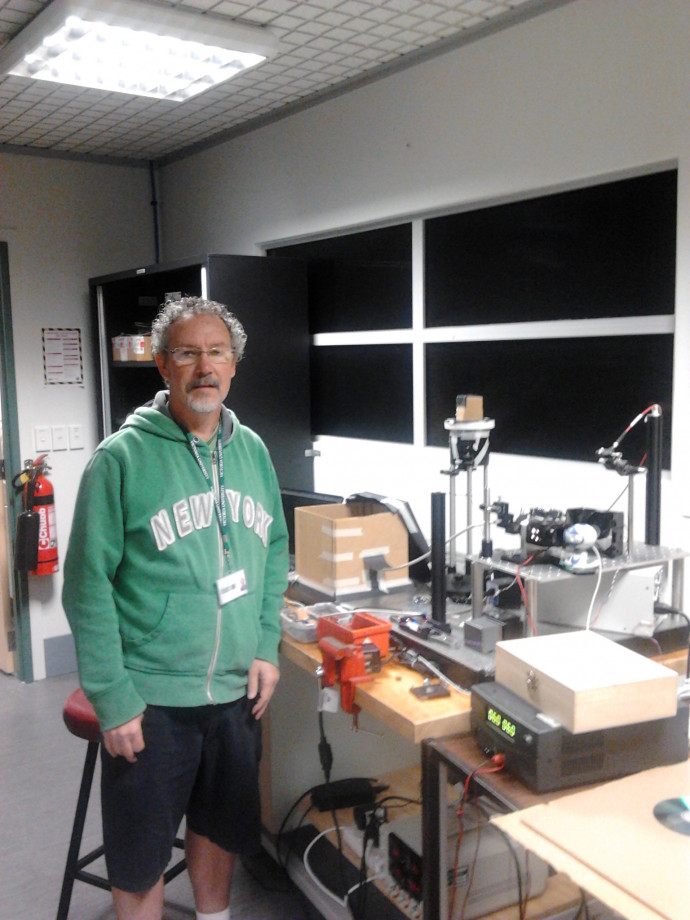 2015 | Research to reality
School: Pinehaven School
Host: Victoria University of Wellington
Region: Wellington
Poster:
Jim has been teaching at Pinehaven School in Upper Hutt since 2000 and really enjoys the Pinehaven community and setting.
Jim was hosted by John Hannah and Dr Suzanne Boniface, Senior Teaching Fellows in the School of Chemical and Physical Sciences at Victoria University of Wellington. He has enjoyed the wonderful opportunity to work with various scientists and researchers who shared their time and knowledge in their area of expertise.
Jim attended lectures and workshops and worked alongside students and researchers in labs which broadened his knowledge and understanding of physics and chemistry. He did some work in the Raman Lab where single molecules can be studied using a Surface-enhanced Raman Spectrometer. Lasers are shot through the molecules and the resulting scattering of light is observed. SERS technology may become the next generation in cancer detection and screening. The ability to analyze the composition of a mixture on the nano scale makes the use of SERS substrates beneficial for environmental analysis, pharmaceuticals, material sciences, art and archeological research, forensic science, drug detection, food quality analysis, and single algal cell detection.
He visited a variety of companies where research was happening and was also able to visit manufacturing facilities. Jim learnt each facility had a team of scientists that work together. Collaboration and communication are very important in science. He really enjoyed visiting these facilities and seeing the amazing science that happens all around us.
During the Science Teaching Leadership Programme, Jim met people from diverse backgrounds and embraced the opportunities that were available.   The conversations he had will assist him to be a better science teacher at the primary level. Jim gained a greater awareness and understanding of the applications of science in the wider community and has a deeper understanding of the Nature of Science which he is looking forward to taking back and sharing with his colleagues and students. He learned that research doesn't always follow a clear path. Researchers sometimes abandon their original ideas and adapt their questions and investigations along the way just because they found something more interesting to explore.
Jim would like to thank the Royal Society of New Zealand for administering the Science Teacher Leadership Programme and providing this excellent opportunity for teachers. He is grateful to Dr Suzanne Boniface, John Hannah, the staff at Victoria University and all of the companies he visited for making his experience such an incredible and memorable one.