News
Published 13 March 2019
2018 Prime Minister's Science Prizes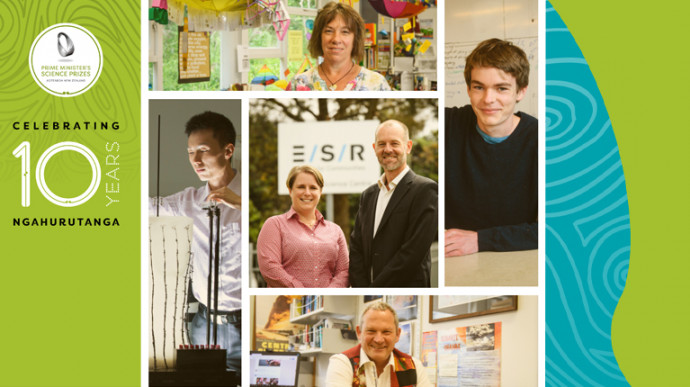 The Prime Minister's Science Prizes ,now celebrating their tenth year, recognises the impact of science on New Zealanders' lives, celebrates the achievements of current scientists and encourages scientists of the future.
The 2018 prizes were presented at a special function at Parliament .
Congratulations to all the winners, in particular Carol Brieseman ,Hampton Hill School ,who was awarded the The Prime Minister's 2018 Science Teacher Prize and to former Onslow College student Finnegan Messerli who was awarded the Prime Minister's 2018 Future Scientist Prize
Carol believes that igniting students' natural curiosity and inspiring them to constantly question events around them is key to their life-long learning success. Her year five and six students know that there is no such thing as a dumb question and if their teacher doesn't know the answer, they can work it out together. Initiatives instigated by Carol at Hampton Hill School include the installation of solar panels, a school vegetable garden with worm farms, compost bins and student-designed water tanks, a green-house made from recycled bottles, a human sundial and a five senses garden. Carol, who has 30 years teaching experience, shares her capabilities widely by supporting and mentoring teachers at Hampton Hill and other schools. Read more about Carol. 
Finnegan won the Prize for research into a physics problem that could ultimately help scientists better understand the risks of avalanches and slips. Finn's project began when he was asked to explain at an international physics tournament why grains like salt form a cone-like pile when they are poured onto a surface. It required him to find a method of testing the properties of the grains. "Essentially I designed the method I would have liked to have at my fingertips when I was working on the problem," says Finn. He is the third student from Wellington's Onslow College to win the Future Scientist award in the Prizes's 10-year history. All three winning students have been taught by Kent Hogan, who is Head of Science at the school. Read more about Finnegan.
Source: Royal Society Te Apārangi