News
Published 5 December 2017
TechHub CREST Challenge National Winners announced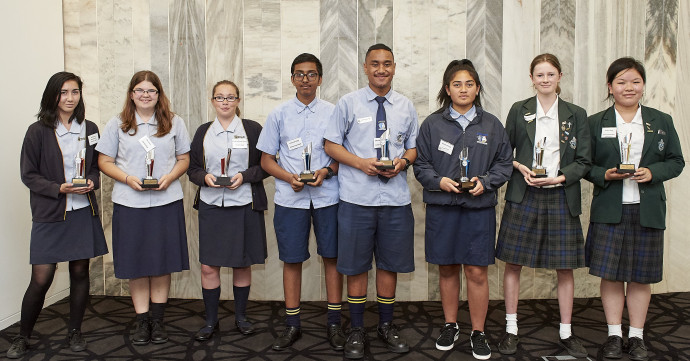 Rising to the challenge to develop a helpful app
As part of the 2017 TechHub CREST Challenge, teams of Year 9 and Year 10 students from Auckland, Christchurch and Wellington have been busy designing a mobile app (to beta level) which would either help someone who has a daily challenge or identified a social issue within their school and helped address/solve that issue.
On 1 December, the regional winners, from James Cook High School (Auckland), Samuel Marsden Collegiate School (Wellington) and Hornby High School (Christchurch) started the day at Royal Society Te Apārangi giving presentations about their apps to a team of ITP judges and each other. Tours of Datacom and Trade Me were followed by afternoon tea at the Beehive with the Hon. Claire Curran who presented the students with their regional awards .The students were also visited and congratulated by MP's Brett Hudson, Paul Goldsmith, Melissa Lee and others.
Xanthia Fonoti, Navneel Singh and Villiami Ungounga, from James Cook High School, developed Canteen,designed to make ordering meals from the school canteen more efficient. Mr Satchet Singh is their teacher.
Kimberley MacKinnon, Zoe Evans and Fleur Johnson-Dunn from Hornby High School developed Alzheimer's, designed to provide help and support Alzheimer's sufferers and their supporters. Mr Ben Carter is their teacher.
Leila Barber, Kellen Zeng and Linda Zhang, from Samuel Marsden Collegiate School, developed Spirit, designed to encourage participation in school-wide activities. Mr Paul Khouri is their teacher.
The judges commented that the teams had thought about their problems considerably, often pivoted and provided truly useful outcomes.
Team Hornby High were announced as the winners of the 2017 TechHub CREST Challenge which was made at the #wellytech Christmas event, in front of an audience of a 1000+ people.
TechHub and CREST extend their congratulations to all the 2017 participating teams, their teachers and mentors and sincerely thank the Hon.Claire Curran, ITP, Datacom, Trade Me and Google for their support of the 2017 Challenge and the national winners event.
Source: Royal Society Te Apārangi