News
Published 14 March 2019
Tahi Rua Toru Tech 2019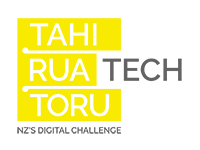 New platform, more flexibility, more resources, and the same great Challenge!
123Tech is New Zealand's exciting digital challenge for school students built around the successful TechHub CREST Challenge.
Partnering with the Ministry of Education, the IT industry created the 123Tech Challenge to support the new Digital Technologies & Hangarau Matihiko curriculum in schools and kura.
In the challenge, small teams of 3-4 students complete a project-based challenge either in-class in schools, or through a local Code Club. Most will complete it as a classroom activity, but the model caters to both.
The 123Tech Challenge is for everyone
Teams are partnered with an industry mentor and provided with guidance and support .
English or Te Reo
Teams can undertake the full Challenge in English or Te Reo Māori. All resources and the Teachers Guide are available now on the 123Tech site in both English and Te Reo Māori, and shortly the blogging platform will also be fully available in Te Reo end-to-end.
The Challenge levels have been renamed
There are four levels of the 123Tech Challenge for Years 1-13
Teams receive a DigiCREST Certificate (Primary, First, Bronze or Silver) if they successfully complete each level.
New 123Tech platform
The 123Tech management and blogging platform has been redeveloped from the ground up! It's easy to use, lightning fast and has all the functionality needed to run the Challenge.
Teachers don't need to re-signup on the new platform, however if they haven't accessed it this year, they will need to reset their password. 
Start whenever teachers want
Teachers can run the challenge whenever it suits their class and school.
The challenge can be started at any time throughout the first 3 terms. Teams also have 2 weeks extra to complete the Challenge (12 weeks instead of 10), although the last 2 weeks are just overflow – however, it is recommended aiming for a 10-week challenge, and the weekly videos will work on that basis. The only restriction is that students must be completed by the last week of term 3, with regional championships and celebrations commencing around the country at the start of Term 4.
Sign teams up now at the 123Tech site. (Teachers will need to reset their password to access the new platform)
Source: Royal Society Te Apārangi