Research
Published 4 November 2020
Genetic recipe book for natural products from fungi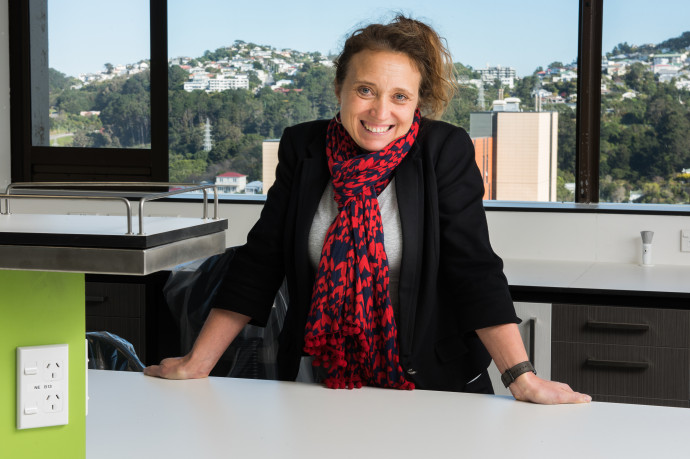 Emily Parker is a chemical biologist at Victoria University of Wellington,involved in the development of new treatments for diseases. Photo credit: Gerry Keating
Professor Emily Parker and her team at Victoria University of Wellington are identifying the genes that allow fungi to create natural medicinal compounds. The idea is to create a genetic recipe book for possible drugs
Adapted from an article by Alison Ballance, RNZ, 17 September 2020
When chemical biologist Emily Parker looks at fungi, she sees a treasure chest of potential medicines.
The Ferrier Research Institute professor has a Marsden grant from the Royal Society Te Apārangi to investigate how subtle genetic differences create diverse and useful chemical compounds in fungi. The results, say Emily, will help tailor-make compounds with medicinal uses.
Emily says that natural chemicals are a leading source of new pharmaceuticals, and she gives penicillin as an example of a compound produced by a fungus that has strong antibiotic properties.
Emily and her team are particularly interested in a group of bioactive compounds produced by fungi known as indole terpenes.
These compounds have been shown to have anti-viral, anti-bacterial and anti-cancer properties, as well as acting as a natural insecticide.
PhD student Rose McLellan works in the Synthetic and Chemical Biology Laboratory at Victoria University of Wellington.
She says that her research project involves creating "some circular pieces of DNA. What I do is transform them into fungi or mould, trying to understand how they make certain compounds so that we can produce them on a larger scale."
The idea, Rose says, is to identify potentially useful compounds and also produce them on a larger scale.
Rudy Bundela's PhD project in the same lab is seeking to understand how "these fungi make these wonderfully complex secondary metabolites."
Secondary metabolites are a by-product that aren't needed by the fungi for its basic survival, but which nonetheless have useful features that could be harnessed by humans.
Emily says that once we understand what individual genes produce, they can be treated as basic ingredients and recombined to make new useful compounds.
Additional information: GENETIC RECIPE BOOK FOR NATURAL PRODUCTS FROM FUNGI - New Zealand Geographic
RESEARCHER
Professor Emily Parker
ORGANISATION
Victoria University of Wellington
FUNDING SUPPORT
Marsden Fund
CONTRACT OR PROJECT ID
VUW1819: 'Molecular basis of diterpene chemical diversity'
---