Research
Published 16 November 2020
Raukawa wāhine embark on 400km journey to walk in their ancestor's footsteps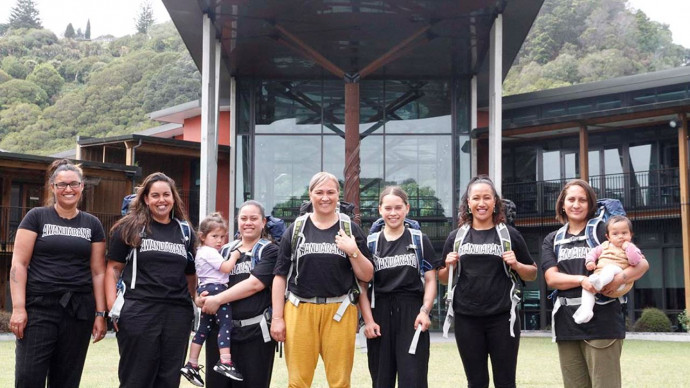 L to R: Hannah Simmonds (research assistant and logistics coordinator), Dr Naomi Simmonds, Arahia Moeke, Lisa Begbie, KLee Begbie, Ngahuia Kopa, and Maureen Mitai. Absent: Tyra Begbie, Kyea Watene-Hakaraia. Photo source: Te Whare Wānanga o Awanuiārangi
A group of seven wāhine will this week embark on a three-week hīkoi across the North Island to retrace the journey of the ancestress Māhinaarangi, and reconnect with their tribal stories, knowledge, lands, lakes and rivers along the way
Originally published on 10 November 2020 on Te Whare Wānanga o Awanuiārangi website
The hīkoi is part of a Marsden-funded research project — Taku Ara Rā: Ko Māhinaarangi — led by Dr Naomi Simmonds (Raukawa), Senior Lecturer and Researcher at Te Whare Wānanga o Awanuiārangi.
"It is our hope that by reconnecting to the lands, environment, and knowledge of our tūpuna through indigenous research methods — like pūrākau and hīkoi — we can discover positive pathways for the descendants of our tūpuna Māhinaarangi in Aotearoa today," says Dr Simmonds.
Joining Dr Simmonds on the hīkoi are six other Raukawa women: Ngahuia Kopa; Lisa Begbie, and her daughters Tyra Begbie and Klee Begbie; Arahia Moeke; and Kyea Watene-Hakaraia.
The wāhine will start their 400-kilometre walking journey on Saturday 14 November from Te Hauke region in Hastings and walk through to Wairoa, Waikaremoana, and across the Mamaku and Kaimai Ranges, staying at marae along the way. They hope to arrive at Rangiātea Pā site on the banks of the Mangaorongo river just out of Otorohanga on Sunday 6 December.
Together they will trace the journey of Māhinaarangi of Ngāti Kahungunu who is renowned for having travelled, while heavily pregnant, more than 500 kilometres from her people's lands in Kahungunu (near Te Aute in the East) to those of her husband, Tūrongo, at Rangiātea. On the way, she laboured and birthed their son, Raukawa, who the women's tribe is named after.
Dr Simmonds explains that, as well as enabling descendants to reconnect with the journey of Māhinaarangi, the research investigates how retracing ancestral pathways like these can affirm and celebrate what it means to be a Raukawa woman in contemporary Aotearoa.
"I want to discover what it means for me and for the descendants of Māhinaarangi to walk her journey — not as an act of memorialisation, but as an act of rangatiratanga and of healing and transformation, and to see what we can learn in this process," says Dr Simmonds.
For Dr Simmonds, and the wāhine joining her on this journey, it is about using the practice of hīkoi to affirm and pay homage to their unique identity and history as Raukawa. Over the next three weeks, the wāhine will record their experiences and share these with whānau through social media. These experiences will contribute to various research publications, and form the basis for a biannual hīkoi event that more of the descendants of Māhinaarangi can participate in.
The research also draws particular attention to the experiences of pregnancy and childbirth that were an important part of the journey for Māhinaarangi.
"The hīkoi of Māhinaarangi offers us a significant conceptual and physical map that speaks to the mātauranga and tikanga relating to childbirth and mothering," says Dr Simmonds.
"She teaches us how we can birth, care for, and raise our tamariki in unique and empowering ways, and that we can make place for our children and grandchildren through our relationships with each other and with the lands and waters of our ancestors and of our descendants."
Whānau wanting to support and encourage the wāhine on their journey can follow the Facebook page 'Taku Ara Rā Ko Māhinaarangi: Walking in her footsteps 2020' for updates on the hīkoi.
The wāhine will travel down to the Hawkes Bay from the Raukawa Charitable Trust Office in Tokoroa on Friday 13 November and will be welcomed there by local Ngāti Kahungunu marae.
You can follow the hīkoi on the project Facebook page: https://www.facebook.com/hikoimahinaarangi/
Additional information: Te Whare Wānanga o Awanuiārangi.
RESEARCHER
Dr Naomi Simmonds
ORGANISATION
Te Whare Wānanga o Awanuiārangi
FUNDING SUPPORT
Marsden Fund
CONTRACT OR PROJECT ID
TWW1701: 'Taku ara ra, ko Turongo raua ko Mahinaarangi: (re)tracing the journeys of our ancestors to restore tribal geographies'
---