Research
Published 20 June 2023
Te Rā makes a once in a lifetime return to Aotearoa: 8 July – 23 October 2023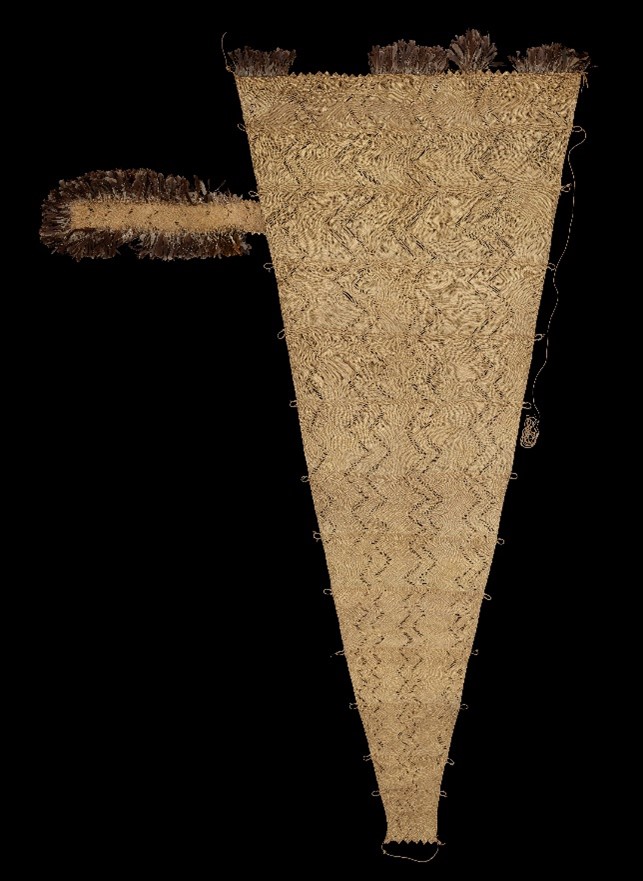 Makers unknown Te Rā [the sail] c. 1770–1800. Harakeke, kererū, kāhu and kākā feathers, dog skin. On loan from the Trustees of the British Museum. © Whakaarahia anō te rā kaihau Te Rā Project. Photo: Cultural Heritage Imaging
Te Rā, an extraordinary piece of Māori cultural heritage from Aotearoa New Zealand, is returning to our shores
Originally published by Christchurch Art Gallery Te Puna o Waiwhetū , 14th June 2023
As the only known customary Māori sail in existence, the homecoming of this taonga is a deeply significant moment for all New Zealanders. Held in the collection of the British Museum, the more than 200-year-old taonga has been shown to the public only once in its lifetime.
Christchurch Art Gallery Te Puna o Waiwhetū will host this special taonga from 8 July to 23 October 2023, in a free exhibition titled Te Rā: The Māori Sail. It will then travel to Tāmaki Makaurau Auckland, where it will be displayed at Tāmaki Paenga Hira Auckland War Memorial Museum between November 2023 and May 2024.
"When we bring home Te Rā, we welcome home our tupuna, an ancestor of our nation," says senior weaver Ranui Ngarimu ONZM (Kāti Māmoe, Ngāi Tahu, Ngāti Mutunga), a member of the research team who initiated the exhibition of Te Rā at Christchurch Art Gallery.
"Te Rā is one of the earliest surviving examples of the Māori art of raranga. This exhibition is deeply significant for the way it builds on our cultural and historic knowledge of Māori weaving and voyaging. The incredible skill of those early Māori weavers and the innovative techniques and technology they developed are truly awe-inspiring."
In 2017, Ranui Ngarimu, alongside Dr Donna Campbell (Ngāpuhi, Ngāti Ruanui) and Dr Catherine Smith (Pākehā), received a Royal Society Te Apārangi Marsden Fund grant to complete an interdisciplinary study of Te Rā in order to learn more about this mysterious taonga.
Ms Ngarimu is a member of Te Kāhui Whiritoi, the group of senior Māori weavers whose work was celebrated in the exhibition Te Puna Waiora: The Distinguished Weavers of Te Kāhui Whiritoi at Christchurch Art Gallery in 2022.
"This is where artistry meets history. We warmly invite everyone to come and experience Te Rā in person, because the impressive scale and intricate details are best appreciated up close, and the weight of history is felt most strongly when in its presence," Ms Ngarimu says.
At nearly four and a half metres long and featuring a complex three-way pattern woven from harakeke, Te Rā is a feat of weaving technology and a reminder of the rich history of Māori sailing and navigation.
"When you come along to this exhibition, you'll gain a deeper understanding of how Te Rā was made and how its design was influenced by the way Māori sailed and lived," Ms Ngarimu says.
"The exhibition offers fascinating insights into our past, and it is a privilege to bring it here to the people of Aotearoa, beginning with Ōtautahi Christchurch."
Te Rā: The Māori Sail represents a significant collaboration between the British Museum, Christchurch Art Gallery Te Puna o Waiwhetū and Tāmaki Paenga Hira Auckland War Memorial Museum. This landmark exhibition is celebrated with an accompanying commemorative publication written by Ariana Tikao in te reo Māori and English from the point of view of Te Rā and illustrated by Mat Tait.
Te Rā: The Māori Sail is free to visit.
Additional information: Christchurch Art Gallery Te Puna o Waiwhetū: Te Rā exhibition
Additional information: Marsden Fund Research Update: Whakaarahia anō te rā kaihau! Raise up again the billowing sail! Revitalising cultural knowledge through analysis of Te Rā, the Māori sail
RESEARCHER
Dr Catherine Smith, Dr Donna Campbell, Mrs Ranui Ngarimu
ORGANISATION
University of Otago
FUNDING SUPPORT
Marsden Fund Standard Grant
CONTRACT OR PROJECT ID
UOO1731: Whakaarahia anō te rā kaihau! Raise up again the billowing sail! Revitalising cultural knowledge through analysis of Te Rā
---