Research
Published 9 May 2019
The future of artificial intelligence: evolutionary computation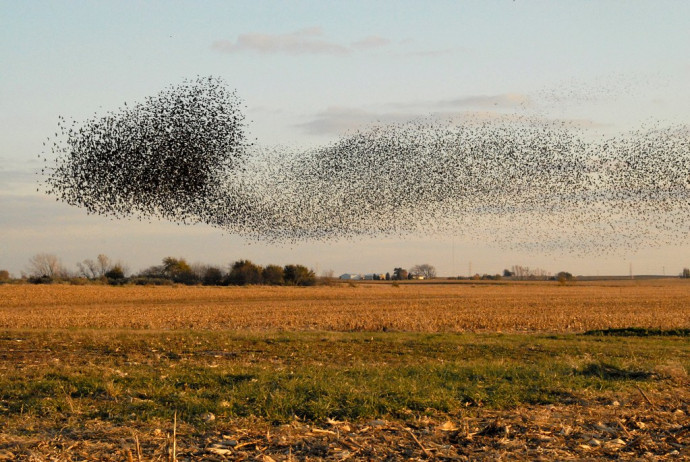 Could the behaviour of swarming starlings be applied to artificial intelligence?
What can artificial intelligence learn from nature? An article in the latest edition of Ngā Kete reviews a branch of artificial intelligence called evolutionary computation.
In the review article 'A survey on evolutionary machine learning' published in the Journal of the Royal Society of New Zealand, Professor Mengjie Zhang FRSNZ, a Fellow of Royal Society Te Apārangi, and his team, provide a review on the applications of evolutionary machine learning in certain sectors that are important to Aotearoa New Zealand.
Artificial intelligence (AI) refers to a vast range of intelligent creations that function like human brains. Since its inception in the 1950s, its abilities have flourished in the area of machine learning. Machine learning (ML) is when computers have the capability to automatically learn from data, identify patterns, and improve without being explicitly programmed. Though this concept has been studied for years, challenges have arisen due to advancing technologies and an increase in the market. ML will continue to dominate in some areas such as drug discovery, however, in others a more powerful technique is needed.
Evolutionary computation (EC) is a type of algorithm inspired by nature. There are two different types of EC techniques. The first is evolutionary algorithms which applies Darwinian natural selection principles to search for optimal solutions. The other is swarm intelligence which is inspired by the social behaviours of animals.
EC has been used in real-world issues across various fields such as agriculture, manufacturing, power and energy, internet, finance, healthcare and even earthquake prediction. For agriculture EC techniques help with land use plans, for manufacturing, it can aid in transportation scheduling of seafood and milk products. 
It is anticipated that EC methods will be significant in the next ten years of AI, ML, Data Science and Big Data development. This idea has been supported by involvement and investment from large corporations such as Google, Microsoft and Uber.
The review article 'A survey on evolutionary machine learning' will be available in the upcoming Ngā Kete 2019. It is available to read in full at Taylor & Francis Online.
Ngā Kete: The 2019 Annual Collection of Reviews presents a series of state-of-the-art review articles providing in-depth coverage in established fields or emerging areas by some of New Zealand's prominent researchers, including our Fellows, medal recipients at Research Honours Aotearoa and winners of major science prizes. Ngā Kete is a homage to Ngā Kete o te Wānanga, the three baskets of knowledge brought down from the heavens for mankind.