Tauranga Girls' College – Rachael Leckie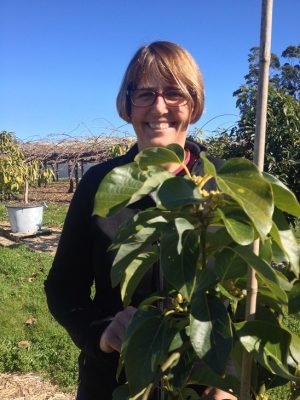 2016 | The success and failures of fruit retention
School: Tauranga Girls' College
Host: The New Zealand Institute of Plant and Food Research – Te Puke
Region: Bay of Plenty
Tauranga Girls' College is developing its Science programme to one that will either excite its students' interest in Science, thus motivating them to carry on and study science, and/or give the students some skills and knowledge which will enhance the quality of their lives and assist them in being more informed citizens contributing to society. They already have one teacher, Richard Hendra, who is currently leading phase two of the Science Teaching Leadership Programme. Having a second teacher with the same opportunity to develop science leadership skills at this level will be highly advantageous for continuity in their Science program over time. It will also enable Tauranga Girls' College science leadership team to move their professional development on with greater depth and understanding of the Nature of Science.
Rachael has been a secondary school Science and Chemistry teacher for the past 25 years, working initially in Christchurch and then moving to the sunny Bay of Plenty where she is Teacher in Charge of Year 10 Science and Chemistry at Tauranga Girls' College.
Rachael has been hosted by the New Zealand Institute of Plant and Food – a crown research institute based in Te Puke. She has had the opportunity to work alongside a range of staff in the Plant Physiology research group, including Dr Peter Minchin, Dr Nick Gould and Nicola Haisman. Over the last two terms, Rachael has worked mainly on avocado and kiwifruit – two of the main horticultural crops in the Bay of Plenty.
The main focus of Rachael's placement has been working on avocado and the factors that affect successful fruit set and fruit retention. Avocado trees can flower profusely but usually only a very small proportion of the flowers develop into fruit for harvest. They can also produce heavy crops one year and then a lot less fruit the following. A range of environmental factors have been implicated in these patterns including water availability and overnight temperatures. Rachael had assisted with setting up experiments to investigate these factors including counting flowers, hand pollinating flowers, collecting ovules from flowers, growing pollen tubes and tagging flowers. She also assisted in harvesting avocado from trees that had been given a specific treatment to determine if the tree retained its fruit better and that the treatment did not have a detrimental effect on the dry matter of the avocado.
A second focus of Rachael's placement was the flowering and bud rot and quantifying PSA tolerance in kiwifruit seedlings. The bacterial kiwifruit vine disease PSA was first detected in the Bay of Plenty in 2010 and is an economic threat to the industry. Her work with kiwifruit has involved investigating aspects of water transport in vines grafted onto a range of rootstocks. This has included regular sampling of xylem fluid via taps drilled into the vines, and the monitoring of guttation from the leaves and buds of young vines.
Other areas of work she has had the opportunity to be involved in include radioactive 14C labelling of potato plants to investigate the impact of bacterial infection.
Over this time, Rachael has gained familiarity with an industry that is vital to the local region and seen how science is carried out in both field and laboratory settings. With this knowledge and experience, Rachael has gained a better understanding of the Nature of Science, and how this works both in research and also in a commercial setting.
Rachael would like to thank her school, Tauranga Girls' College, and colleagues in the Science department for supporting her application to take part in this programme, her host organisation New Zealand Institute of Plant and Food, the staff she has worked alongside (in particular Dr Peter Minchin, Dr Nick Gould and Nicola Haisman), the Royal Society of New Zealand for administering the programme and Ministry of Business, Innovation and Employment for providing the funding.