Improving diagnosis of gastrointestinal disorders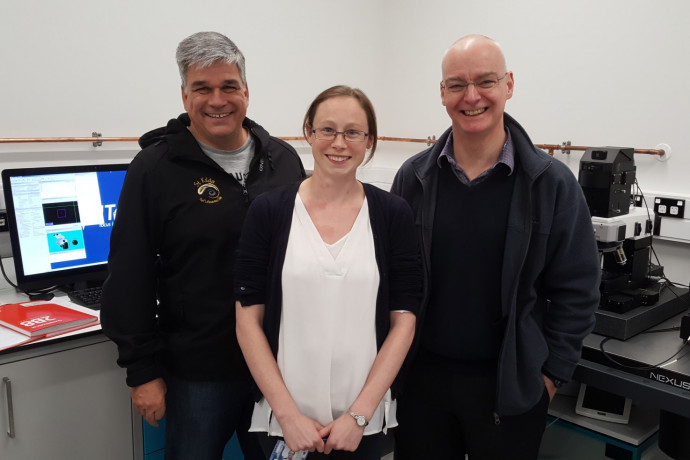 The investigators in Aotearoa, (left to right) Professor Michael Shulz, Dr Sara Miller, and Professor Keith Gordon. Photo: supplied
Dr Sara Miller from the University of Otago will develop a more comprehensive tool for providing point-of-care diagnosis for gastrointestinal diseases that could lead to faster treatment and better outcomes for people who suffer from these debilitating disorders
Published on 5 November 2019
Serious gastrointestinal disorders, including irritable bowel disease and colon cancer, can be difficult to diagnose and treat effectively. Current practice for detection of these disorders involves imaging the gastrointestinal tract lining through endoscopic imaging and biopsy collection. These methods require interpretation by specialist doctors and can be time consuming and expensive. There is also the potential for misdiagnosis. Clinicians urgently require an identification tool that reliably detects and classifies gastrointestinal tissue changes and provides point-of-care diagnosis for a faster pathway to appropriate treatment.
Dr Miller has been awarded a Te Pūtea Rangahau a Marsden Fast-Start grant to develop a new diagnostic tool for gastrointestinal disease using Raman spectroscopy. Raman spectroscopy, based on the light spectrum, is an optical tool that can be used to analyse body tissue quickly. Although its potential for cancer detection has been demonstrated, current Raman spectroscopy methods are not sensitive or specific enough to remove the need for biopsy collection. Dr Miller and her team aim to improve this diagnostic accuracy by adding complementary spectroscopic methods. They will develop a multi-spectroscopic fibre probe and test it on a group of people who have coeliac disease. State-of-the-art machine learning models will be developed for classification and diagnosis of normal versus abnormal tissues.
Dr Miller's probe will be able to scan large regions of tissue with near-immediate feedback to give point-of-care diagnosis or identify regions for targeted biopsy collection. Her research has the potential to produce better outcomes and faster treatment for people who suffer from debilitating gastrointestinal disorders.