Measuring Antarctic glacier melting rates in the Ross Ice Shelf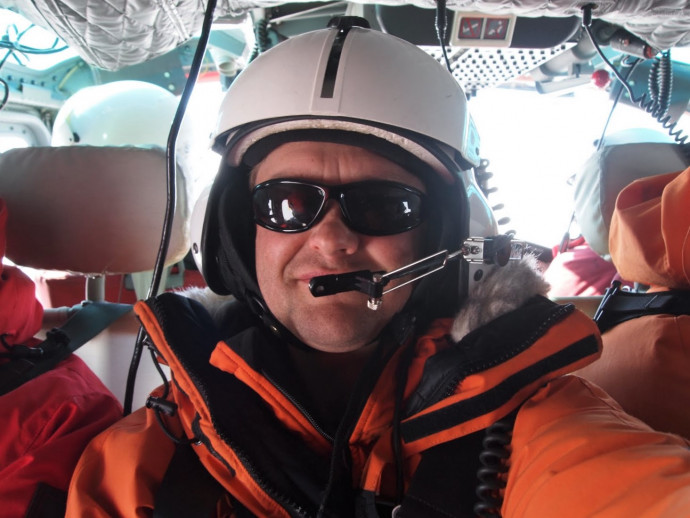 Dr Craig Stewart commuting via helicopter to fieldwork site in Antarctica (photo: supplied).
Dr Craig Stewart from the National Institute of Water and Atmospheric Research (NIWA) will establish monitoring stations on the Ross Ice Shelf, Antarctica, to investigate the threat of increased melting, thinning and the potential break-up of ice from warm ocean waters
Published on 5 November 2019
Large floating ice shelves act as barriers that limit rapid ice loss from the Antarctic Ice Sheet. Although some ice shelves are thinning rapidly, thinning is not universal, and the response of ice shelves is related to their oceanographic setting. Recent work suggests that inflow of surface water may play an important role in driving ice shelf melting, especially near the edges of ice shelves. But we know little about how far into the ice shelf interior this effect is felt. A better understanding of what drives the spatial pattern of melting within the ice shelf will significantly improve models for melting and the rate of long-term sea level rise.
Dr Craig Stewart, from NIWA has been awarded a Te Pūtea Rangahau a Marsden Fast-Start grant to identify the processes that drive rapid melting in the Ross Ice Shelf. To do this, he will install a network of melt monitoring stations in a region that is critical to the structural integrity of the ice shelf. The instruments include a newly developed ground-based radar system capable of detecting subtle changes in ice thickness. The network will enable Dr Stewart to map the distribution of melting at the base of the shelf, along with seasonal variability over two summers and one winter season.
The new data collected by this network will enable Dr Stewart to explore new methods for inferring the circulation of warm waters under ice shelves, and ultimately to understand how ocean circulation drives ice shelf melting and thinning.