News
Published 21 November 2012
2012 Rutherford Medal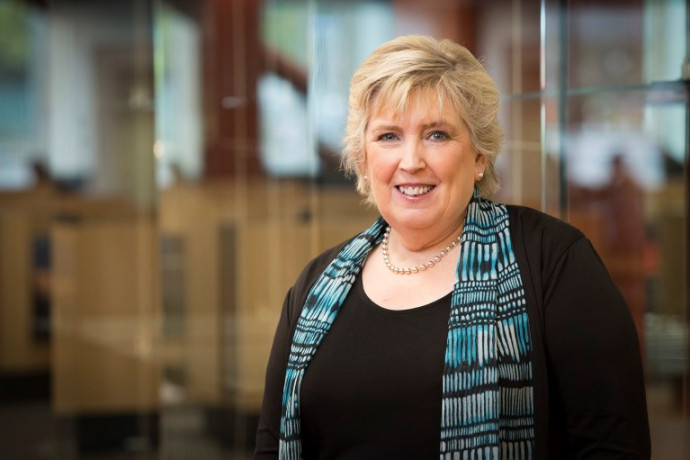 Professor Margaret Brimble
Distinguished Professor Margaret Brimble wins New Zealand's top science and technology honour, the Rutherford Medal
New Zealand's top science and technology honour, the 2012 Rutherford Medal, has been awarded to chemist Professor Margaret Brimble CNZM, FRSNZ, FRSC, FNZIC, FRACI for her world-leading contributions to the synthesis of bioactive natural products and novel peptides.
The Minister of Science and Innovation, Hon Steven Joyce, presented the Royal Society of New Zealand medal to Professor Brimble at this year's Research Honours celebration event in Auckland on Wednesday night.
As the Rutherford Medal winner, Professor Brimble also receives $100,000 in award money from the Government. She is only the second woman to receive the top award since it was established 21 years ago.
The President of the Royal Society of New Zealand, Sir David Skegg, says Professor Brimble's research into synthesising naturally occurring compounds is world-class.
"Professor Brimble has performed outstanding research in the field of organic chemistry throughout her career, both as an academic and in her commercial work."
"That Professor Brimble has won not only the Rutherford Medal, but also the Hector Medal – for excellence in Chemistry – and the MacDiarmid Medal –for science of potential human benefit– testifies to the excellence and importance of her achievements."
In 2007, Professor Brimble was the first New Zealander to win the L'Oreal-UNESCO Women in Science Asia-Pacific Laureate in Materials Science but she says winning the Rutherford Medal is significant to her.
"It's about national pride. I have a sense of trying to do things in New Zealand, for New Zealand, with New Zealanders and the Rutherford Medal really epitomises that."
"I am personally very pleased that New Zealand has now recognised me, not for being a woman in science, but for my science."
Professor Brimble's work encompasses both academic and commercial avenues.  She is Chair of Organic and Medicinal Chemistry at The University of Auckland and she is also a Principal Investigator in the Maurice Wilkins Centre for Molecular Biodiscovery.
In her academic work, she and her team take complex natural molecules, such as shellfish toxins, and work out how to synthesise them using a mixture of approaches, either mimicking natural synthesis pathways or using modern organic synthesis techniques.
"We have to combine all the approaches together to come up with the best way of tackling the molecule. It's a fast-moving and competitive research area."
She says it may take others as little as a month to identify and characterise a new natural molecule, but it can take years to figure out how to make it.
"It's like molecular chess. Sometimes you get really close, but you can't quite complete the synthesis, so you haven't got checkmate. That can often mean going right back to the beginning and coming up with another approach."
Professor Brimble also does commercial work and is Director of Medicinal Chemistry for Neuren Pharmaceuticals.
One recent success story is modifying a naturally occurring peptide that is found in the brain after traumatic brain injury that helps prevent secondary cell death. She and her team created 120 similar versions of the natural peptide. One of these peptides, called NNZ-2566, is more stable and is better able to cross the blood-brain barrier than the natural version. The US army has invested US$23 million in this potential drug, which is now undergoing advanced human clinical trials (stage 2b) internationally.
This molecule could be beneficial for a wide range of patients, from those suffering concussion or head injury from accidents, ballistic head wounds, stroke sufferers and even those who have been exposed to certain toxins.
"When we started working on the project, people said there was no way we could do it with a small team in academia, when pharmaceutical companies have hundreds of medicinal chemists to work on projects like this. My PhD supervisor who was Head of Medicinal Chemistry for Merck's Neuroscience Centre in the UK was visiting me when we started working on the project and just laughed at the idea that we thought we could create a compound that would make it into clinical trials but we have. It's an amazing story."
Professor Brimble has supervised more than 50 PhD candidates and encourages them to aim high.
"The philosophy I try and instil in my students is to think big and do big science that will be noticed outside New Zealand."
Professor Brimble is the Chair of the Board of Trustees of the Rutherford Foundation Trust, which offers awards for early-career researchers.
"One of the things that I really enjoy about my job is that I work with these young scientists, both PhD and early career post-doctoral fellows, and their enthusiasm and passion for what they do is really quite remarkable."
---
The citation for the 2012 Rutherford Medal:  'To Margaret Anne Brimble for her world-leading contributions to the synthesis of bioactive natural products and novel peptides with wide applications across the life sciences industry.'
The citation for the 2012 Hector Medal: 'To Margaret Anne Brimble for her sustained outstanding research in the field of organic chemistry, notably her impressive research in the field of natural products synthesis and the development of new synthetic methodology.'
The citation for the 2012 MacDiarmid Medal: 'To Margaret Anne Brimble for pioneering the design, synthesis and clinical development of a small molecule drug candidate that shows promise for significantly reducing the impact of traumatic brain injury.'
Source: Royal Society Te Apārangi