News
Published 17 October 2018
2018 Early Career Research Excellence Award for Social Sciences: Redefining the role of sport in the red zone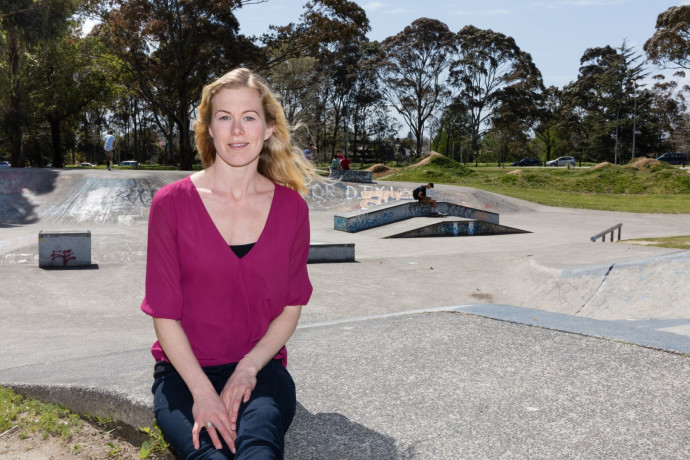 Associate Professor Holly Thorpe has received the 2018 Royal Society Te Apārangi Early Career Research Excellence Award for Social Sciences for her research on the sociology of sport that is redefining the use of sports for development and peace in conflict and disaster zones.
Based at the University of Waikato, Associate Professor Thorpe's research interest is the sociology of sport with a focus on three threads: women in sport, action sports, and sport for development and peace building. She has sought to understand the changing opportunities and challenges for women in sport and physical culture, the role of action sport in women's lives, and how action sports interact with youth culture in conflict and disaster zones.
Holly's initial research was at the nexus of feminism and female engagement in action sports – starting with snowboarding and expanding to broader physical and youth culture. She then expanded her research to address the incorporation of action sports in traditional movements such as the Olympic Games and sports for development.
Holly's work on the growth of action sports or 'extreme sports' in conflict and disaster zones around the world led her to coin the term 'Action Sports for Development and Peace Building' (ASDP) in 2014. She was the first scholar to critically examine the growth of action sports programmes across the developed and developing world.
As Kofi Annan said as founder of the United Nations Office on Sport for Development and Peace, "Sports have an almost unmatched role to play in promoting understanding, healing wounds, mobilising support for social causes and breaking down barriers."  However, Sport for Development and Peace organisations have focussed on traditional, competitive team sports such as football and basketball in their efforts to improve the health and wellbeing of individuals and communities around the world – sports that are often organised by groups external to these communities.
Holly's research has focussed on informal action sports for development, such as skateboarding and parkour. She has found that action sports offer a number of advantages over traditional sports. Firstly, achievement is based on self-mastery rather than 'winning' and all ages, sexes and skill levels can participate together, without the need for coaches or referees. This builds strong communities and provides opportunities for self-regulation, peer mentoring and the chance to 'learn through play', potentially appealing to a wider group of youth.
Her work has led to an invitation to join the International Advisory Board for Skateistan, a non-profit organisation that uses skateboarding and education to improve the lives of disadvantaged children and youth in Afghanistan, South Africa and Cambodia. It has made skateboarding the most popular sport for girls in Afghanistan with girls making up almost 50% of Skateistan participants there. A more traditional sport may not have been as popular with girls. Her ongoing research with Skateistan includes a focus on the experiences of local and international female staff and volunteers, and the key roles that have played in the successes of this unique NGO.
Her research into young people and action sports for development questions the notion that young people are the victims. Her research reveals youth in conflict and post-disaster zones demonstrating tremendous creativity and resourcefulness, despite the challenging environments in which they live.
Her research on youth in post-earthquakes Christchurch found that, for many, participating in action sports provides opportunities to rebuild social networks and connections. Re-appropriation of damaged areas such as deserted warehouses into temporary skate parks allowed for the reimaging of a post-earthquake city.
Similar benefits were found for those skaters in post-Hurricane Katrina New Orleans.
Holly has also been conducting interviews with parkour participants in Gaza over the past six years.  Initially, "they told me how the acts of running, leaping, jumping and somersaulting over broken buildings and sand dunes was an important coping mechanism in a world filled with risk and deprivation." As her research progressed, she discovered how some young Gazan refugees are using the networks and connections within the transnational action sports community to enable upward social mobility and escape.
Her research also questions the notion that youth are apathetic slaves to social media. "In fact some of them are out there creating these highly innovative strategies and using digital media to improve their own and others' lives, so if action sports inspire youth to strive for a better world, I think this is something we need to be taking seriously. More importantly still, there is a need for policy to understand these unique forms of youth agency, creativity and entrepreneurialism that are emerging in some rather unlikely places". 
"In my research I am always searching for new ways to help capture the lived experiences of youth, to create space for their voices, and then to find strategies to translate these findings to help inform policy at both national and international levels".
The award selection committee recognised that Holly is rare in consistently bringing empirical depth, methodological rigour and theoretical sophistication to her scholarship.  "Her work offers sound and realistic policy recommendations for governments and sport governing agencies that advocate and promote sport for development and peace building initiatives."
Following an Honours degree from the University of Otago, Holly received her PhD from the University of Waikato in 2008. In 2010 Holly was invited to be the Leverhulme Research Fellow at the University of Brighton, United Kingdom and in 2012 received a Fulbright Fellowship spent at Georgetown University in the United States.  She has received an Advanced Programme Grant from the International Olympic Committee and in 2015 was awarded a Marsden Fund Fast-Start grant for her project "Sport in the Red Zone: Youth and Social Change in Spaces of War and Disaster."
Royal Society Te Apārangi Early Career Research Award in Social Sciences:
For emerging researchers in social sciences research in New Zealand.
Citation:
To Holly Ashya Thorpe for her work in understanding how women engage with action sports and how such sports interact with youth culture in conflict and disaster zones.
Source: Royal Society Te Apārangi