News
Published 17 October 2018
2018 Hutton Medal: What microscopic marine amoeba can tell us about our past climate, sea levels and earthquakes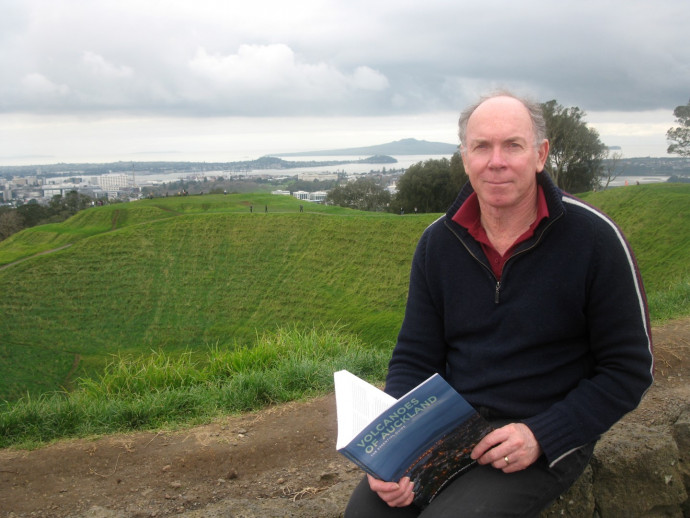 Dr Bruce Hayward MNZM FRSNZ has been awarded the Hutton Medal by Royal Society Te Apārangi for his outstanding contributions to the knowledge of New Zealand's marine ecology and geology.
Dr Hayward is a cross-disciplinary scientist who has worked over many years in the fields of marine biology, fossils and geological history.
He is an internationally-eminent expert on living and fossil foraminifera, which are microscopic marine amoeba that have tiny shells that are abundantly preserved in the fossil record. They live in all seas around the world from the greatest depths right up to high tide. They are important for understanding past global changes, including extinctions, over timespans of tens to millions of years.
Bruce has received three Marsden Fund grants and until recently led a team at his Geomarine Research laboratory.  They have studied the ecology of foraminifera in the seas all around New Zealand and have used these studies to document the record of large earthquakes off the East Coast of the North Island.
They have also used these results in sediment cores to study the history of sea level variation over the last 7,000 years.
Studying foraminifera can also provide answers to man-made pollution, sea-surface temperatures and the life in past oceans.
In the largest global taxonomic study of foraminifera in modern times, Bruce and his team made major contributions to understanding how species diversity and distribution changed over millions of years. They showed how localised species have shorter durations in the fossil record. In contrast, the more widespread species survive better, suggesting they have greater environmental tolerance. Contrary to its present distribution, one family evolved in the Mediterranean-Caribbean where it is now extinct, surviving only in the Indo-Pacific Ocean.
In another global study, his team documented the last major extinction in the deep sea and showed that it was caused by declining carbon dioxide associated with the ice ages. 
Bruce has written six major research books on foraminifera. He recently led compilation of an online global database, as chief foraminiferal editor for the World Register of Marine Species, which currently comprises 9,000 living and 32,000 fossil foraminiferal species, 100 of which he described as new to science. 
Hayward's diverse range of expertise also extends to research on northern New Zealand geology and landforms, marine invertebrate ecology, industrial archaeology and lichens.
One highlight is his hypothesis that moas were New Zealand's first "rock hounds", collecting the hard, smooth pebbles of opal or jasper to swallow and use as gizzard stones to help them grind up their food. Another highlight has been his recognition of five previously unknown volcanoes in the Auckland region in the last 10 years.
Bruce has also published books for a general reader on New Zealand's geological history: Out of the Ocean into the Fire: History in the Rocks, Fossils and Landforms of Auckland, Northland and Coromandel (2017) and Volcanoes of Auckland: The Essential Guide (2011).  
Overall, he has over 1000 publications, including more than 280 peer-reviewed papers, hundreds of popular articles and more than 20 popular books.
Bruce is recognised as being passionate about earth science conservation and has been convenor of the Geoscience Society of New Zealand's Geoheritage Subcommittee for 34 years.
He conceived and co-ordinated the compilation and is still custodian of the globally-unique Geoscience Society of New Zealand's Geopreservation Inventory which lists over 3,000 outstanding geoscience sites. It is widely utilised as the basis for the protection of outstanding natural features in planning schemes by most local and regional councils in New Zealand.
The medal selection committee said that in addition to his internationally-recognised research he has also played a major role in communicating science to the general public. "His work has had highly significant and long-term impact over several fields, including marine science, geology, foraminiferal research, and earth science conservation."
On receiving this medal, Bruce said: "I am humbled by this recognition which I share with my team and many collaborators. I am constantly amazed by everything I see in nature and much of my research has been driven by a desire to understand the history of the Earth, how it works and where we are going."
Previous awards have also recognised his contributions. He is the only person twice awarded the Geoscience Society of New Zealand's highest annual award – the McKay Hammer for the most meritorious contribution to New Zealand geology, since its inception 60 years ago, and he was the society's 2006 Hochstetter Lecturer. He was elected a Fellow of the Royal Society of New Zealand in 2003 and received a James Cook Research Fellowship in 1998. He was made a Member of the New Zealand Order of Merit (MNZM) for services to Earth science conservation in 2006.
Hutton Medal:
For significantly advancing understanding in animal sciences, earth sciences or plant sciences.
Citation:
To Bruce William Hayward for outstanding contributions to the knowledge of New Zealand's marine ecology and geology.
Source: Royal Society Te Apārangi