News
Published 17 October 2018
2018 Te Kōpūnui Māori Research Award: Retelling Māori history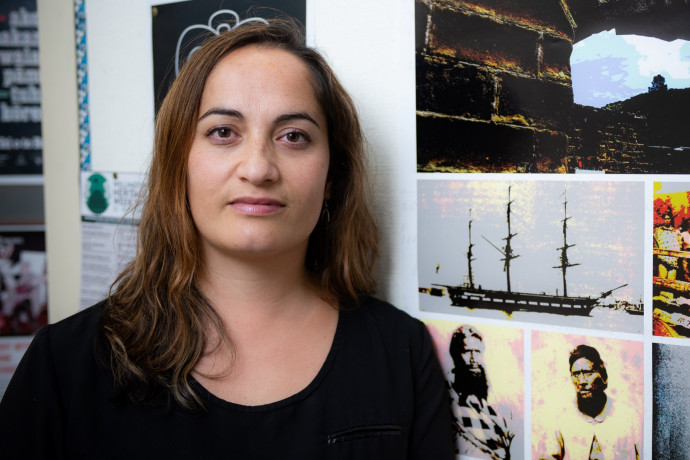 Dr Arini Loader has received the Royal Society Te Apārangi Te Kōpūnui Māori Research Award for pushing the boundaries of Māori Studies by incorporating history, Te Reo Māori and literary studies into her research. The new award recognises innovative Māori research by promising early career researchers.
Dr Loader (Ngāti Raukawa, Ngāti Whakaue, Te Whānau-a-Apanui) is a lecturer in the history programme at Victoria University of Wellington. Her area of speciality is nineteenth-century materials written in Māori.  Her scholarship offers major new interpretations of works written in Māori between 1840 and1930 by such figures as Tāmihana Te Rauparaha along with other less well known figures, including women, who were using the medium of paper, writing and print for their own social, political and intellectual purposes.
Rather than reviewing these texts as historical sources to answer a thematic question, Arini looks at them in terms of what the creators of the texts were doing: why they were writing, who were they writing for?  The result provides a wholly new insight into works, their creators and the readers the creators imagined.
Working across both te reo Māori and the English language, her research resists simple definition and this flexibility has seen her emerge as a scholar whose work sits equally well in the fields of English literature, History, and Māori Studies.
While there are extensive public and private archival holdings of texts written in te reo Māori by Māori ancestors, sadly few scholars can read, comprehend and therefore access these works. Arini seeks to repatriate these voices which lie 'buried' in the archives to Māori and to the rest of the world.
Arini was invited by noted history academics the late Professor Emeritus Dame Judith Binney FRSNZ, Professor Atholl Anderson FRSNZ and Dr Aroha Harris to contribute to the award-winning work on Māori history Tangata Whenua: An Illustrated History.
She was also invited to write a chapter about early Māori literature for A History of New Zealand Literature (edited by Professor Mark Williams), one of only two Māori scholars included in the book.
Arini has been made one of the editors of the He Pouhere Kōrero Journal, the only journal to specifically focus on Māori history.
In the field of biographical studies, Arini was invited to the Centre for Biographical Research at the University of Hawai'i at Mānoa to participate in scholarly conversations about biography.  This trip resulted in the journal article 'Kei Wareware: Remembering Te Rauparaha' in thejournal Biography, published alongside articles from other indigenous scholars from Canada, the United States, Australia and New Zealand. 
In presenting this award, the selection committee noted that as an early career academic her innovative research is of a very high standard and is already shifting boundaries and setting new directions. "Her ability to apply new methods to Māori history challenges historical paradigms and centres mātauranga Māori as a method for unlocking the context behind these texts to better illuminate these taonga as a source of understanding 19th century Māori society." 
On receiving the award, Arini said: "This award validates the importance of centering Māori methodologies and frameworks including language in order to refresh the history of Aotearoa New Zealand."
Arini received a Distinction for her MA thesis in Māori Studies in 2008 and is the only Māori student to date to have received a Victoria University of Wellington Vice-Chancellorʻs PhD Scholarship. She has been interviewed on RNZ, Radio Wātea, Access Radio, and for Te Karere. She has participated in panel discussions at Te Papa and for New Zealand Writer's Week as part of the New Zealand Festival and other public events.
Royal Society Te Apārangi Te Kōpūnui Māori Research Award:
For an early career researcher to recognise innovative Māori research with a promising trajectory.
Citation:
To Arini May Loader for pushing the boundaries of Māori Studies by incorporating history, te reo Māori and literary studies into her research.
Source: Royal Society Te Apārangi