News
Published 17 October 2018
2018 Callaghan Medal: Making conservation genetics sexy with bird sperm races and more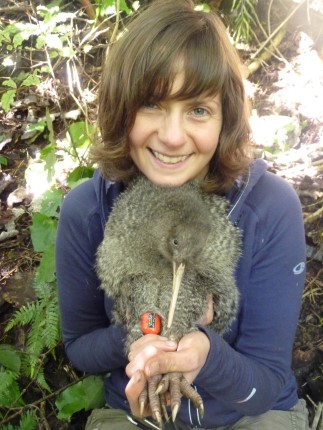 Dr Helen Taylor from the University of Otago has been awarded the Callaghan Medal from Royal Society Te Apārangi for her science communication around conservation genetics and threatened species.
Having recognised that genetics is a topic that is often perceived as dry and complicated by the general public, Dr Taylor has set out to make it anything but, dedicating much of her free time to making conservation genetics accessible and interesting to as many people as possible, including those working in conservation.
Her main research interests lie in inbreeding depression in wild populations, which is where mating between relatives leads to reduced biological fitness. She also researches the role of genetics in improving conservation of these wild populations.
She engages with national and international media regarding her research. Her work has featured in the NZ Herald, RNZ's Our Changing World, BBC online, Wildlife Australia and TV3's The Project.
She has also run multiple public talks and seminars to improve public understanding of her discipline. One example is "Conservation genetics: new tools to preserve our unique wildlife" for the Genetics Society of Australasia 2017 conference.
When she and her research assistants were en route to an island sanctuary in the Marlborough Sounds to study inbreeding depression in the little spotted kiwi for her PhD, she arranged free passage for them by giving educational talks to passengers on the Interislander Ferry and educational materials and talks for the Cougar Line water taxis.
In 2016 she worked with Natural History New Zealand to create a three-minute video about her research that won both the Future Leader and People's Choice awards in the Australian Academy of Science and Royal Society Te Apārangi's 180 seconds of science contest.
Helen has also played an active part in the University of Otago's Lab in a Box project, which takes a mobile science lab to New Zealand's rural schools to engage students of all ages in the theory behind conservation genetics.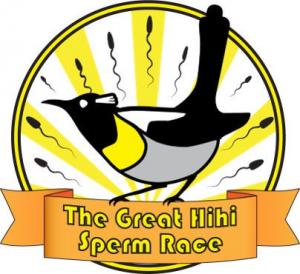 In 2017 she was awarded a Marsden Fund Fast-Start grant to facilitate her work on inbreeding and male fertility in birds using high-throughput DNA sequencing. This project sparked arguably Helen's most successful science communication initiative to date —The Great Hihi Sperm Race.
This humorous and highly educational web-based fundraiser allowed people to place bets on which of the 128 birds in four of the seven remaining populations of hihi would have the fastest swimming sperm. The campaign provided an ideal platform to discuss Helen's research and hihi conservation with both the media and the general public and raised more than $11,000 for hihi conservation from supporters in 17 countries. The project addressed the question of whether poor male fertility is a contributing factor to population decline and poor hatching success rates in inbred birds.
Helen was recently invited to become part of the popular SciBlogs New Zealand science blogging community and has already written several pieces on inbreeding, de-extinction, gene editing and other topics.
The medal selection committee said that Helen's science communication is making a real impact on the conservation of New Zealand's endangered species. "She is a passionate science advocate and an exceptionally talented science communicator who engages effectively with a broad range of people including academics, conservation practitioners and the general public."
On receiving the medal, Helen said "I am surprised and humbled to have been awarded this medal at such an early stage in my career. But I'm also very proud. Effective science communication is extremely important to me and it's wonderful to gain recognition for something so close to my heart and that I enjoy so much.
"I think it's fantastic that Royal Society Te Apārangi recognises the importance of science communication alongside all the other important facets of modern science and research. This will provide a really solid jumping off point for me to pursue even more exciting science communication opportunities alongside my conservation research."
Following her undergraduate degree, Helen worked in public relations for six years before returning to science to do a Master's degree and then a PhD, graduating in December 2014. She has published 16 papers in top international journals, including Nature Ecology and Evolution, Trends in Ecology and Evolution and Molecular Ecology. She has also been awarded five prizes for best presentation at various national and international conferences.
Callaghan Medal:
For an outstanding contribution to science communication and raising public awareness of the value of science to human progress.
Citation:
To Helen Ruth Taylor for raising the profile and understanding of conservation genetics and threatened species management both within and outside of academia.
Source: Royal Society Te Apārangi