News
Published 26 November 2014
2014 Joan Metge Medal: Education as a social and cultural practice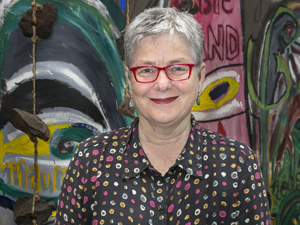 Professor Alison Jones has been awarded the Dame Joan Metge Medal for her significant impact on education in New Zealand – both research and practice, particularly for Māori, Pacific and women's education.
The medal selection panel noted the wide impact she has had on many aspects of education in New Zealand, especially at the tertiary level.
Professor Jones is based at Te Puna Wānanga, School of Māori Education at the University of Auckland. She has worked in the field of sociology in education in a number of areas of study including feminist theory, an ethnography of Pacific Island girls' schooling and social anxiety about children's bodies and her work has influenced many fields of educational practice.
Her current research focuses on the earliest educational relationships between Māori and Pakeha, and the relationships that established the first school in New Zeland in 1816. Her book with Kuni Jenkins Words Between Us, He Korero: First Māori‐Pakeha Conversations on Paper won the Best Book in Higher Education Publishing at the Copyright Licensing New Zealand Educational Publishing Awards in 2012. Professors Jones and Jenkins developed an exhibition from the book 'Nga Taonga Tuhithui' which they have presented at more than 20 schools, marae and other venues and are currently working on teaching resources based on this book.
Professor Jones is a committed teacher, particularly training and mentoring researchers as writers, including demystifying research writing for Māori and Pacific and other scholars through her academic writing workshops.
She has received many teaching excellence awards, including a national Teaching Excellence Award in Tertiary Teaching in 2013.
Dame Joan Metge Medal
For excellence in research and capacity building in social sciences.
Citation
To Alison Jones for her significant impact on New Zealand educational research and practice, particularly on Māori‐Pakeha educational relationships and women's education.
Source: Royal Society Te Apārangi