News
Published 10 November 2015
2015 Hutton Medal: Understanding New Zealand's Hidden Depths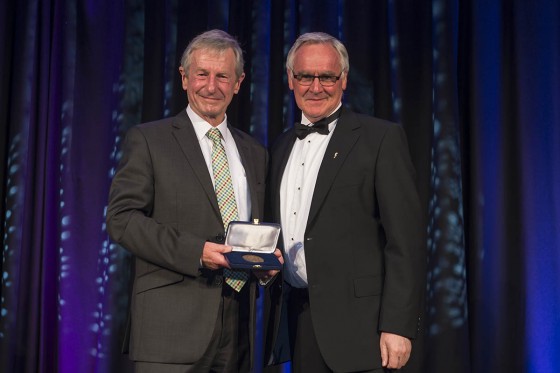 Lionel Carter receives Hutton Medal from Barry Scott
Research into New Zealand's vast ocean, which makes up more than 90% of the nation's territory, has earned Professor Lionel Carter FRSNZ the Hutton Medal.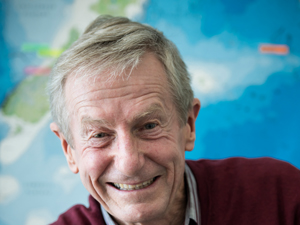 Professor Carter's research career has centred on investigating basic geological and oceanic processes and he has then applied these discoveries to assess ocean environmental change, natural hazards and resources.
The medal selection panel noted him as a leading earth scientist in New Zealand and said that his discoveries have clearly demonstrated the roles of plate tectonics, ocean currents, sea level and climate change in shaping New Zealand's submarine continental land mass and abyssal ocean.
"In other words, I was tasked to find out how the New Zealand ocean and seabed work. A pretty tall order for a person who is not the world's best sailor," Professor Carter said.
He discovered the mechanisms whereby debris from our major rivers pass hundreds of kilometers along submarine channels and discharge into the world's largest deep-ocean current. This current drives the sediment up 4,500 kilometres along the eastern margin of submarine New Zealand into the 10,000 metre-deep Kermadec Trench. There, converging tectonic plates drag the sediment into the crust where it melts and is returned to the surface by volcanoes. Thus debris eroded from New Zealand is returned to the surface. "This is one of the great recycling systems that was operating a million years before the local councils set up their own recycling schemes," he observed.
New Zealand's paradigm shift from a small island nation to a country with one of the world's largest Exclusive Economic Zones has been guided by Professor Carter's research, along with that of his many colleagues. "It is truly a community effort. It could not be otherwise as our ocean is big and our population small; smaller than that of Sydney or Melbourne."
Other important research has been using environmental indicators preserved in sediment cores to determine how the ocean/climate interactions have changed over past millennia. "This allows us to identify the natural cycles of climate change and the long-term outcomes of change," he said.
A firm believer in applying research to real-world problems, he applies his expertise to a wide range of marine engineering projects. For the past decade he has been working with the International Cable Protection Committee – an international forum for the submarine telecommunication cable industry – to better protect the global fibre-optic cable network from marine hazards. This work has gained significance as this cable network carries over 95% of all international internet and communications traffic.
Prior to joining the Antarctic Research Centre at Victoria University of Wellington, Professor Carter worked at the New Zealand Oceanographic Institute of the DSIR and its successor, NIWA.
On receiving the medal, Professor Carter said: "I am deeply honoured to receive the Hutton Medal for 2015. But it is an honour to be shared. Research into environmental change is a team effort involving experts in geology, oceanography, climatology, computer modelling just to mention a few. I have been fortunate to be part of such teams, the latest being the highly talented group from the Antarctic Research Centre of Victoria University. And of course there is the exceptional family support, which underpins the research effort recognised by this award."
He has received many fellowships and awards for geology, marine science and cartography (map making). He was elected Fellow of the Royal Society of New Zealand in 2003 and was awarded the New Zealand Association of Scientists, Marsden Medal, in 2012.
Hutton Medal:
For outstanding work by researcher in Earth sciences.
Citation:
To Lionel Carter for his career- long contributions to marine geology in New Zealand through fundamental investigations of sea-floor geological processes and their application to assessment of hazards and resources
Source: Royal Society Te Apārangi