News
Published 23 November 2016
2016 Pickering Medal: new technology that mimics nature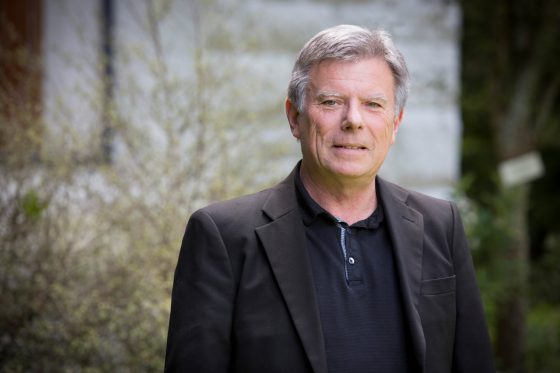 Associate Professor Iain Anderson, University of Auckland, has been awarded the Pickering Medal from the Royal Society of New Zealand for developing and commercialising electroactive polymer technology.
Associate Professor Anderson, who heads up the Biomimetics Lab at the Auckland Bioengineering Institute, leads a research programme for creating new technology that mimics nature to solve problems.
He has led a research programme that combines electric charge with soft polymer materials to mimic muscle action that includes force, movement and sensing of stretch. The technology can also be used for energy harvesting from wind, wave human and animal motion. The lab succeeded in developing wearable strain-sensing technology that has potential applications in healthcare, rehabilitation, sports training, animation and gaming industries.
To commercialise the technology, Associate Professor Anderson launched the spin-out company StretchSense Ltd in 2012 with two of his former students, Todd Gisby and Ben O'Brien (who won the Prime Minister's Emerging Scientist Award in 2013). Anderson is a Director and the Chief Scientist of StretchSense.
The company has seen rapid growth with over 200 business customers, including Fortune 100 companies and research organisations worldwide. Their technology even featured in 2016 New York Fashion Week with fashion designer Becca McCharen (Chromat) using it to create dresses that physically responded to wearers' hand movements to create different tones and moods.
The company now employs 35 staff, including five former post-graduate students of Associate Professor Anderson. Following receiving major funding from a company that owns Japan's largest retailer of apparel and accessories, StretchSense will expand its New Zealand manufacturing plant and its research and development facility. It also plans to set up sales and customer support offices in the US, Europe and Asia.
A further goal of StretchSense is to produce sensors that are self-powered. StretchSense has recently licensed the electroactive polymer energy harvesting intellectual property developed by the Biomimetics Lab.
The Biomimetics Lab is also patenting new stretchy electronic switches for use in soft robotic applications for agriculture, aquaculture and health. This technology holds great potential for new high-value industries for New Zealand.
The medal selection committee commended Associate Professor Anderson for being able to foster a strong spirit of entrepreneurship in his students alongside a high standard of scientific inquiry.
On receiving the medal, Associate Professor Anderson said: "I was thrilled when I heard that I was to receive the medal. For about 10 years my students and I have been plugging away, advancing our electroactive polymer work, in the hope that it would all come to something substantial. Well it has! This medal from the Royal Society of New Zealand is an endorsement of the work of the lab and StretchSense and our creation of an electroactive polymer ecosystem down here in New Zealand."
Iain Anderson is Associate Professor in the Department of Engineering Science at University of Auckland. He was one of the finalists in the 2014 KiwiNet Research Commerialisation Awards and in May 2016 he was presented with a Vice-Chancellor's Commercialisation Medal from the University of Auckland.
Pickering Medal:
For excellence and innovation in the practical application of technology leading to significant recognition and influence both in New Zealand and overseas.
Citation:
To Iain Alexander Anderson for the development and commercialisation of electroactive polymer technology.
Source: Royal Society Te Apārangi