News
Published 26 November 2013
2013 R.J Scott Medal: Preparing for the next 'big one'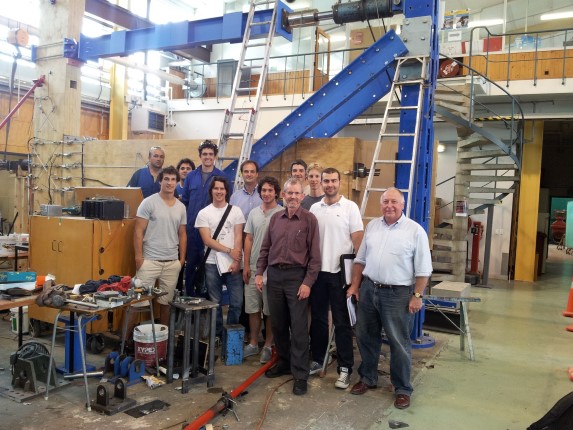 Large-scale timber buildings that will withstand the next big Canterbury earthquake could well be the legacy of Professor Andy Buchanan, the 2013 winner of the R.J Scott Medal for engineering sciences and technologies awarded by the Royal Society of New Zealand.
Professor Andy Buchanan from the University of Canterbury, has been a major force in the international resurgence in the use of timber for large-scale buildings.
Many of the concrete and steel buildings in Christchurch survived the Earthquake with moderate damage, but they are proving to be too expensive to repair and are being demolished.  Professor Buchanan's research has been on developing methods by which joints in timber buildings can be designed to "give" in an earthquake, while avoiding permanent damage or deformation. This is allowing timber to directly compete with concrete and steel for large span multi-storey buildings for the first time.
In addition to timber engineering, Professor Buchanan has played a major role in the development of 'fire engineering' in New Zealand. He established the world-leading Fire Engineering Masters Degree programme at the University of Canterbury in 1992, and his early research on computer simulation of fire spread in multi-compartment buildings was picked up in other countries. His book Structural Design for Fire Safety is the top international text on the subject.
Professor Buchanan has been recognised with national and international awards such as the Hideo Sugiyama Memorial Award for Timber Engineering and the Sjölin Award of the International Forum of Fire Research Directors. This year he was the recipient of a New Zealand Institute of Architects President's Award. More generally, his work has been recognised by the award of a Queen's Service Medal in 2002 and by his being elected a Distinguished Fellow of the Institution of Professional Engineers New Zealand in 2011.
Citation:
2013 R. J. Scott Medal
To Andrew Hamilton Buchanan
In recognition of his world-leading work in developing design techniques for large-scale timber buildings both nationally and internationally, and in the development of fire engineering in New Zealand
Source: Royal Society Te Apārangi