2021 Pou Aronui Award: From poetry to periodicals, Kipling to cricket – a tireless supporter of New Zealand literature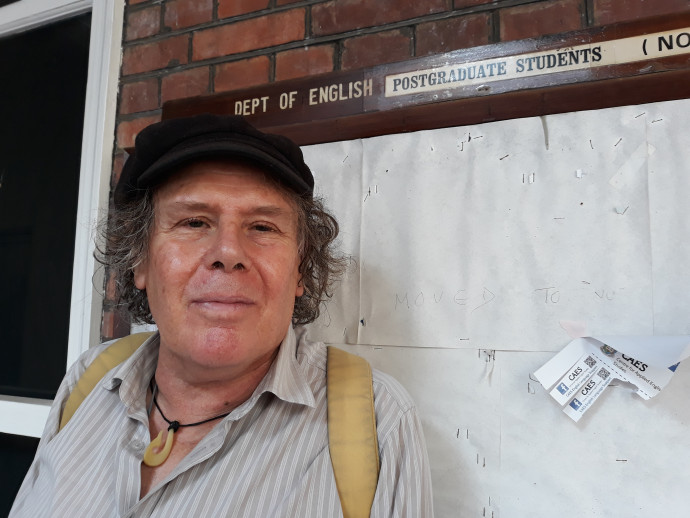 Photo by Belinda Ricketts
Professor Harry Ricketts, acknowledged as one of Aotearoa New Zealand's most prolific literary figures – writer, teacher, editor and promotor of local intellectual culture – has been honoured with the Pou Aronui Award for distinguished service to the humanities–aronui by Royal Society Te Apārangi.
Harry has always paid close attention to the different aspects of literature, its writers, its critics and its role in society. He is a dedicated and inspiring teacher of literary studies and creative writing, and an influential writer and literary editor.
Harry has distinguished himself in his writing career, primarily as a poet and scholar, having written/edited around 30 books on topics ranging from the poets of World War 1 to New Zealand literature to spiritual verse to cricket. His publications have earned him national book awards and international attention.
Harry's most notable work is his biography of Kipling, The Unforgiving Minute: A Life of Rudyard Kipling, which positioned him as one of the world's leading Kipling scholars. This biography was internationally acclaimed, with reviews in the Times Literary Supplement, The Wall Street Journal and The New Yorker. Victoria University Press brought out Harry's Selected Poems in 2021.
After Harry moved from the UK to the English Programme at Te Herenga Waka—Victoria University of Wellington in 1981, he rapidly established himself as an engaging and popular lecturer, particularly through his second-year Modern Poetry Course. Twenty years later, while continuing to teach full-time in the English Programme, he developed and taught a creative non-fiction course for the International Institute of Modern Letters. He has successfully supervised around 40 PhD and MA students in English Literature and Creative writing, and 10 of his creative writing students have so far published books originating in his creative non-fiction course, a course he continues to teach, although he formally retired from the English Programme as an Emeritus Professor in 2021.
From 1998 to 2019, Harry was co-editor of the quarterly New Zealand Review of Books Pukapuka Aotearoa – the only local periodical solely dedicated to long-form reviews of major New Zealand publications, at a time when review coverage of New Zealand literary work was on the decline. During that time, Harry and his various co-editors ran around 130 reviews a year, covering a wide range of genres – from Māoritanga to fiction to history to economics. Harry's editorship speaks to his dedicated service to the promotion of local literary and intellectual culture and his extensive knowledge of the local literary scene.
Harry's own literary reviews have appeared in The London Review of Books, The Financial Times, Landfall, The Listener and Metro, to name a few places. From 1998 to 2007, he was The Listener's theatre critic and since 2000 he has delivered regular literary reviews on RNZ's popular Nine to Noon programme. He was a chair at the International Festival of the Arts in Wellington from 2000-2016 and appeared as an invited writer at numerous festivals, here and overseas.
Harry has profoundly contributed to many facets of New Zealand literature and literary culture. The Pou Aronui Award recognises this contribution and his dedication to the humanities–aronui over a sustained period.
Harry feels very honoured to be receiving this award, knowing how many distinguished Aotearoa New Zealand scholars and writers have preceded him. He is particularly grateful to his colleagues Professor Jane Stafford, Programme Director Dougal McNeill, and Hamish Clayton for putting him forward for the award.
Award:
The Pou Aronui Award is an annual award which is bestowed for distinguished service to the humanities–aronui. It recognises contributory and dedicated service to the humanities–aronui over a sustained period.
Citation:
To Harry John Dillon Ricketts for being one of the most prolific figures in New Zealand literature, as a writer, teacher, editor and promotor of local intellectual culture.