2021 Rutherford Medal: Impact of housing on health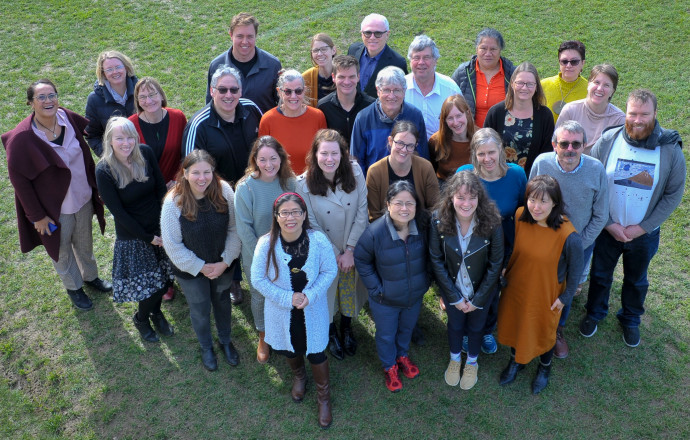 Distinguished Professor Philippa Howden-Chapman CNZM QSO FRSNZ and the He Kāinga Oranga/Housing and Health Research Programme including Professor Julian Crane, Associate Professor Michael Keall, Associate Professor Nevil Pierse from University of Otago, Wellington have been awarded the Rutherford Medal by Royal Society Te Apārangi for groundbreaking research that has quantified the effects of housing interventions on occupants' health and wellbeing, and informed legislation and policy.
The Rutherford Medal is a prestigious award instituted by Royal Society Te Apārangi, at the request of the Government. Awarded annually, it recognises preeminent research, scholarship or innovation by a person or team in any field of engineering, humanities, mathematics, sciences, social science, or technology and comes with a prize of $100,000 from the Ministry for Business, Innovation and Employment, the New Zealand Government.
New Zealanders spend most of their time inside, yet the indoor environment's impact on health and wellbeing had been overlooked. Under Professor Howden-Chapman's inspirational leadership, He Kāinga Oranga's research has shown how straightforward housing improvements to cold, damp and unsafe conditions can significantly reduce rates of infectious, respiratory and cardiovascular disease and deaths, particularly for children and older people. This research has influenced public policy innovation and implementation, including the Winter Fuel Payment and the Healthy Homes Guarantee Act, which requires all landlords to meet the World Health Organization's Housing and Health Guidelines, developed by a WHO International Committee chaired by Howden-Chapman.
He Kāinga Oranga's first community trial, the Housing, Insulation and Health Study was accompanied by three British Medical Journal editorials highlighting the study's innovation and important ramifications for health. It was later profiled by the UK Medical Research Council as an outstanding international example of how to evaluate complex interventions.
The Heating Study then showed the harmful effects of unflued gas heaters and informed measures leading to a 44% decline in the proportion of houses using bottled gas between the 2006 Census and the 2013 Census. Pierse showed the importance of temperature to health and wellbeing in this study.
These studies were amongst the first to demonstrate that intervention trials could be undertaken in domestic settings, with measurable positive impacts on occupants' health, and were translated into effective policy as national regulations and international guidelines. Both studies were rated as outstanding examples of housing intervention research in an American Journal of Public Health article and two Cochrane Reviews. The trials have been exemplars for similar programmes in the USA, UK and Australia.
Along with Motu, the He Kāinga Oranga team evaluated the benefits of the Warm-Up NZ: Heat Smart Programme in 2010, examining the initial 46,655 households receiving insulation and heating retrofits. It showed that not only were there significant reductions in hospitalisations, pharmaceutical use and energy consumption, but also significant reductions in premature mortality of people aged 65+. The benefit-cost ratio of nearly four-to-one provided a convincing rationale for the Treasury and EECA national rollout of this programme, yielding a net benefit of around $950 million. Team member Caroline Fyfe's 2020 doctoral study of the next 204,405 household retrofits showed the greatest hospitalisation reductions were amongst Pasifika and the elderly.
Keall's trial, Home Modifications to Reduce Injuries from Falls was published in The Lancet, accompanied by a commentary highlighting the study's important methodological contribution to injury prevention. This research has informed changes to ACC and district health board management of recently injured people to prevent future falls. His follow-up 'Safety on Steps Study' was recently completed.
The team are now extending their robust trials to the co-benefits of upscaling welfare policies. In Helen Viggers' study, Warm Homes for Elder New Zealanders, a $500 voucher was deposited into the electricity accounts of participants with Chronic Obstructive Pulmonary Disease, with the message "Heat is Your Medicine". This intervention has been adopted nationally as the Winter Fuel Payment and expanded to include beneficiaries.
Dr Caroline Shorter and Crane's observational Mould Study, carried out with GPs and Finnish colleagues, looked at the impact of heating infants' bedrooms on the development of asthma and viral infections. They showed that cold and mouldy homes were associated with the development of early wheezing in young children. These results encouraged Stats NZ to include mould measurement in the 2018 Census for the first time. Results have highlighted the extent of mould as a hazard to respiratory health particularly in rental properties.
The NEST trial, partly funded by the 2014 Prime Minister's Science Prize, is a primary prevention programme providing parents of new-born babies with sleep-sacks and heaters for their infants' bedrooms, aiming to address existing high rates of hospitalisations for respiratory infections. As with most of the studies, NEST was conducted in partnership with Māori and Pasifika community groups, with the aim of reducing existing health inequalities and mutually building capacity and is being submitted for publication.
In 2013, the team helped establish the Healthy Homes Initiative, a secondary prevention programme. Local partners ensure that, where a child in a low-income family has been hospitalised for a housing-related illness, their homes are made warm, dry and uncrowded. Funded by the Ministry of Health and local charities, the programme has delivered $150m in housing interventions to over 15,000 families. Pierse led the evaluation, which showed a significant reduction in the number of children's hospitalisations, GP visits and pharmaceuticals and a return on investment of 33%. In 2019, the programme was awarded the Prime Minister's Better Public Service Award.
Current work includes looking at the extent and impact of homelessness and potential ways of addressing this. Amore has worked with Stats NZ to define and measure homelessness to guide policy and, with Viggers, has shown the extent of houses lacking basic amenities.
Working with community partners, Pierse has led an MBIE-funded team establishing the local evidence base for Housing First, an international programme for housing and supporting people experiencing homelessness. With their consent, the team tracked a homeless population, who had up to 500 interactions per person with government services before their underlying needs for housing were met. This work is showing how Housing First can help meet Tiriti o Waitangi obligations. Housing First now has cross-party support and has expanded to a $250 million programme. A subsequent Marsden grant, led by Howden-Chapman, is analysing the history, current socio-legal operation and impact of eviction policies. Nathan has shown the impact of frequent residential mobility on children's behaviour and wellbeing.
Utilising quasi-experiments, Dr Lucy Telfar Barnard and Dr Julie Bennett partnered with councils to introduce a rental warrant-of-fitness to improve the quality of rental houses. This study underpinned the Healthy Homes Guarantee Act, which required both private and public landlords to meet important aspects of the WHO's Housing and Health Guidelines, released in 2018.
Howden-Chapman chaired the WHO's Guidelines Development Group from 2010 to 2018 and in 2021 He Kāinga Oranga/Housing and Health Research Programme became a WHO Collaborating Centre for Housing and Wellbeing. She is now a director of Kāinga Ora-Homes and Communities, New Zealand's largest Crown Company, tasked with improving the quantity, quality and sustainability of public housing and creating communities.
Award:
The Rutherford Medal recognises preeminent research, scholarship or innovation contributing to the advancement of knowledge, science and technology for the benefit of New Zealand society.
Citation:
To Philippa Howden-Chapman and He Kāinga Oranga/Housing and Health Research Programme including Julian Crane, Michael Keall and Nevil Pierse for ground-breaking research that has quantified the effects of housing interventions on occupants' health and wellbeing, and informed legislation and policy.