Alice Woodward Horsley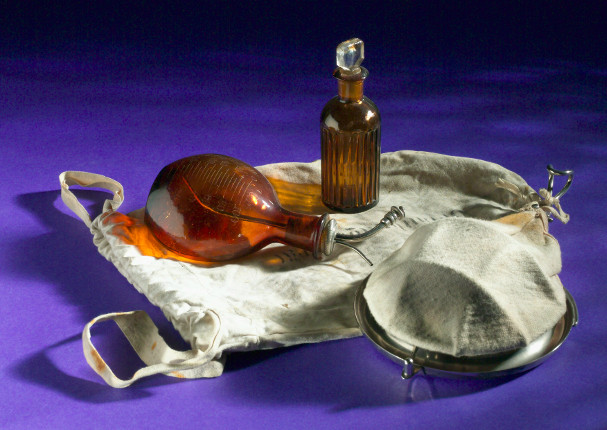 Alice Woodward graduated from the Otago Medical School in the year 1900 along with three other women. Yet in 1909 the School's midwifery lecturer was publicly declaring that women in medicine had been a failed experiment.1 It was still not easy for women to gain medical careers unless they had financial assistance from their families. Woodward, from a wealthy family, was not dependent on medicine for a living. She was the first woman to set up private practice in Auckland and in 1902 was appointed the honorary bacteriologist and pathologist at Auckland Hospital.

Woodward married Arthur John Horsley in 1903 and then combined a long medical career with raising four children. Sometimes: "when she was giving anaesthetics…she would ring home, halfway through, to tell someone to turn the jam off"2 and while she attended a patient her children could often be found doing their homework in the back of the family car.3

Image: An example of a portable anaesthesia kit from Germany 1914-1918. Source: Wikimedia Commons.
References:
1. 'A Subtle Containment: Women in New Zealand Medicine, 1893-1941 - NZJH_22_1_04.Pdf', accessed 4 August 2017, http://www.nzjh.auckland.ac.nz/docs/1988/NZJH_22_1_04.pdf.
2. New Zealand Ministry for Culture and Heritage Te Manatu Taonga, 'Horsley, Alice Woodward', Web page, accessed 4 August 2017, /en/biographies/3h36/horsley-alice-woodward.
3. Mary R. S. Creese and Thomas M. Creese, Ladies in the Laboratory III: South African, Australian, New Zealand, and Canadian Women in Science: Nineteenth and Early Twentieth Centuries (Scarecrow Press, 2010), p. 106.
This profile is part of the series 150 Women in 150 Words that celebrates women's contributions to expanding knowledge in New Zealand, running as part of our 150th Anniversary.