Kate Edger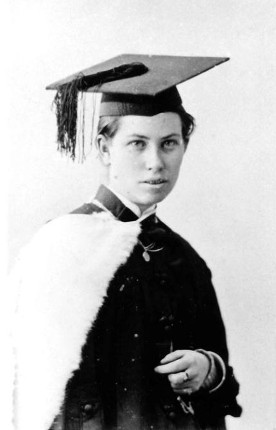 New Zealand's first female university graduate (1857-1935)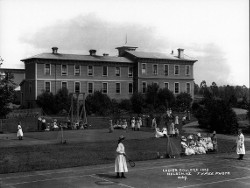 Kate Edger was the first New Zealand woman to gain a university degree and thought to be only the second in the entire British Empire.1 Edger received her earliest education from her father, a Baptist Minister. Edger became the only female pupil at Auckland College and Grammar School – there being no equivalent girls school at the time. When she then applied to the University of New Zealand for permission to compete for a mathematical scholarship, Edger included her age and qualifications – but not her gender.
The university was keen to increase student numbers, so quietly accepted the application.
In 1877 Edger completed her degree, ending an attempt to fob off women with a lesser "certificate".2 Over a thousand people came to the graduation ceremony and the New Zealand Herald commented: "Let us hear no more about the intellectual inferiority of women."3
Edger taught briefly in Christchurch, then became the first Principal of Nelson College for Girls (right).
Feature Image: Kate Edger. Source: MB 1448, University of Canterbury research photograph collection, item 4804, "Kate Edger, Mrs Evans, the first woman undergraduate", date 1877, photographer Hemus and Hanna. Macmillan Brown Library, University of Canterbury.
Second Image: Nelson College for Girls 1889. Source: Wikimedia Commons.
References:

1. Mary R. S. Creese and Thomas M. Creese, Ladies in the Laboratory III: South African, Australian, New Zealand, and Canadian Women in Science: Nineteenth and Early Twentieth Centuries (Scarecrow Press, 2010), p. 116.
2. Winifred Macdonald and Molly J. Mabee, Footprints of Kate Edger: A History of the New Zealand Federation of University Women, 1921-1981 (New Zealand Federation of University Women, 1982).
3. Macdonald, Penfold, and Williams, The Book of New Zealand Women, p. 202.
This profile is part of the series 150 Women in 150 Words that celebrates women's contributions to expanding knowledge in New Zealand, running as part of our 150th Anniversary.