Sarah Featon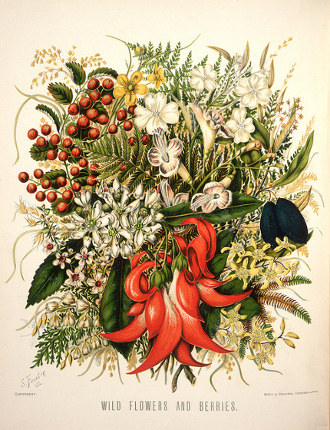 Botanical artist (1848-1927)
When Sarah Featon and her husband Edward published their book The Art Album of New Zealand Flora, the title implied artworks rather than botanical illustrations. The front piece (above) showed an artistic arrangement of specimens. But the book was also arranged in accordance with the Linnaean system and marketed as an illustrated version of Sir Joseph Hooker's handbook of flora, which had been the standard scientific reference for more than 20 years.1
Early residents of the Gisborne area, the Featons were supplied with plants by other botanists. Their mission, as they saw it, was to correct the fallacious notion that New Zealand had no flowers. Interest in New Zealand botany reached a peak in the 1880s and the book sold well. But theirs was also the first book in New Zealand published with new and expensive chromolithography colour technology; the cost of production almost bankrupted the publishing firm and further planned volumes never saw the light of day.2
Image: The front piece of Featon's book. Source: National Library of New Zealand.
References:
1. Catherine Field-Dodgson, 'In Full Bloom: Botanical Art and Flower Painting by Women in 1880s New Zealand', 2003, p. 71, http://researcharchive.vuw.ac.nz/handle/10063/4681.
2. Mary R. S. Creese and Thomas M. Creese, Ladies in the Laboratory III: South African, Australian, New Zealand, and Canadian Women in Science: Nineteenth and Early Twentieth Centuries (Scarecrow Press, 2010).
This profile is part of the series 150 Women in 150 Words that celebrates women's contributions to expanding knowledge in New Zealand, running as part of our 150th Anniversary.